Shanghai Disney Resort Marks its First Chinese New Year with Guests from Home and Abroad
Chinese New Year
The resort heralds the first day of the Year of the Rooster with two traditional Chinese lions bringing fortune and prosperity to guests in front of the Storyteller Statue. Joined by Mickey and Minnie, and Goofy dressed as the traditional God of Fortune, Philippe Gas, general manager of Shanghai Disney Resort, dotted the eyes of the lions, awakening them to spread good cheer and luck to resort guests and cast members.
Shanghai Disney Resort has provided a series of additional New Year activities, including Dragon Dance performances in the Gardens of Imagination every day during the celebration period. Mickey leads the dragon with a "pearl" and welcomes the guests to join him and his pals in the dance. The longer the dragon, the more luck it brings to the guests.
Guests gather along the longest parade route in a Disney park to enjoy Mickey's Storybook Express, an exciting parade with its own musical soundtrack and colorful performers.
In the Chinese zodiac-inspired Garden of the Twelve Friends, the Year of the Rooster is represented by an Allan-A-Dale mosaic, which is beautifully adorned in sleek, new red couplets for another fun photo opportunity.
Classic Disney characters are dressed in brand-new, beautiful Chinese traditional attire on Mickey Avenue, sharing hugs and taking photos with guests.
The gleaming new Golden Rooster icon in the Gardens of Imagination has been designed to welcome guests and conjure happy and prosperous thoughts.
During the Chinese New Year celebration, every night after the Nighttime Spectacular show, guests will enjoy a special wishes projection event, where they will be able to send their best New Year wishes in the most special of ways. To the tune of a charming symphony composition by famous Chinese musician Tan Dun, a series of inspirational wishes and quotes are projected onto Mickey-shaped lanterns on the towering Enchanted Storybook Castle.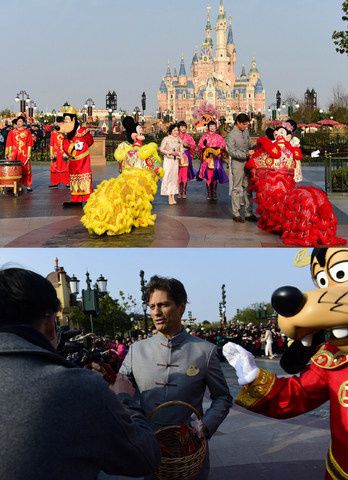 (PRNewsFoto/Shanghai Disney Resort)
About Shanghai Disney Resort
Shanghai Disney Resort is a joint venture between The Walt Disney Company and Shanghai Shendi Group comprised of two owner companies (Shanghai International Theme Park Company Limited and Shanghai International Theme Park Associated Facilities Company Limited) and a management company (Shanghai International Theme Park and Resort Management Company Limited). Shanghai Shendi Group holds 57% of the shares and Disney holds the remaining 43% of shares of the owner companies. Disney has a 70% stake and Shanghai Shendi Group has a 30% stake in the joint venture management company. The management company is responsible for creating, developing and operating the resort on behalf of the owner companies.
Shanghai Disney Resort website: www.shanghaidisneyresort.com
SOURCE Shanghai Disney Resort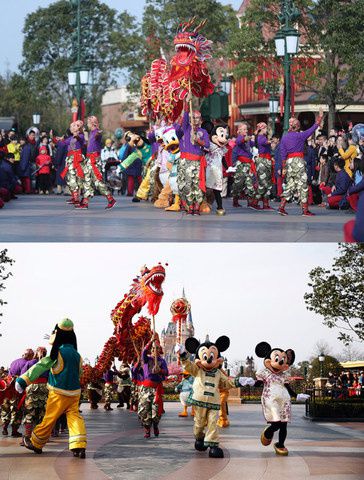 (PRNewsFoto/Shanghai Disney Resort)