HOP serving customers
Press conference
I had the pleasure to be invited as a blogger by Mr. Lionel Guérin Managing Director HOP! Air France, at a press conference, Tuesday, May 3 at the Toulouse Blagnac Airport.
This article follows the conference and is freely written, this is not a sponsored article.
Serving customers
This is the second time I attended a press conference organized by the HOP Company. The previous one was a joint press conference HOP- ATR and I invite you to read or re-read the article I had written.
Helen Abraham, Director of Sales and Marketing Products in the HOP! Air France activity, hosted by Jean-Michel Vernhes, CEO of Toulouse-Blagnac Airport has presented the 2015 results and the 2016 outlooks.
It was a great pleasure to meet again Jean-Michel Vernhes, whom I bumped into several times in my professional career in the years 1995-2000.
The common theme of this conference is clearly "serving the customer" and it is with this perspective that the 2016 program has been built.
Increasing 2015 results starting from Toulouse
The attacks in November 2015 have of course impacted the results since you and I know many people have canceled trips to Paris, however traffic from Toulouse was up by 1.6%.
The total traffic to Paris (Orly and Charles de Gaulle) rose of 2.4 % to nearly 2.5 million customers in 2015.
HOP! Air France connects Toulouse to all hubs.
When you're in province it is essential to have access to all major destinations to be connected to all the "HUB" airports. This allows numerous connecting opportunities on the domestic network, in Europe and worldwide. This is the case for Toulouse since we are Lyon, Paris -Orly and Paris -Charles de Gaulle.
Note the opening of a link Lyon –Luxembourg, which becomes a great success.
Rates readability
Hop has performed work on its rates, allowing a better efficient readability and meeting the expectations of different types of customers. The desire is clearly to be closer to customers
Rates are divided into three groups:
Youth card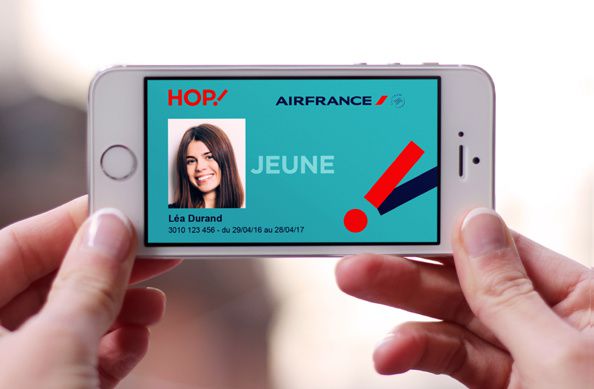 This is one of the latest and not the least of novelties. The 12-24 slot is already very promising, but Hop decided to go further by providing to the youth an offer without obligation. The youth card is digital and costs 49 euros, it gives access to a wide range of discounts, it is refund on the first trip.
Today Hop already carries 800,000 young people and aims to carry 100 000 more.
5000 youth cards were sold in two weeks time; this shows how much the offer corresponds to a real expectation of customers.
HOP! Air France also aims to enable small and medium businesses to enjoy the benefits of BlueBiz program specifically designed for them.
The shuttle is 20!
For its 20 years, the Shuttle product offers a new logo and returns to its fundamentals in terms of frequency, flexibility, accessibility and adaptability. In the future, this unique product in Europe will be the spearhead of the short-haul activity HOP! Air France.

"We are pleased with the results of our business departing from Toulouse. With over 4.5 million seats available this year, the Toulouse-Blagnac airport stands for almost a quarter of the activity of HOP! Air France. The relaunch of the shuttle, of which the customer experience provides access within 20 minutes of arrival at the airport to board the plane for our SkyPriority customers, would be in future the best airline offer available on the market. This service is considered the densest in Europe. With an average of 53 flights per day and a plane taking off every 20 minutes to various airports in France, including Paris, HOP! Air France is a major player on the airport. "Said Helen Abraham.
Jean-Michel Vernhes, added: "The Shuttle is an effective tool for economic development in the region, thanks to its strong connection with the capital. This is why the airport of Toulouse-Blagnac always deployed solutions facilitating passenger flows, especially those traveling for professional reasons. An ATB desire will continue to share with HOP! Air France, to ensure quick access to the shuttle."
From Toulouse, it is a great offer on routes to Paris with 31 flights per day (25 Paris-Orly and 6Paris-Charles de Gaulle).
This also means that in the summer 2016, HOP! Air France will offer more than 2 million seats on these flights.
365 days a year
When you have to buy your next ticket, remember that HOP is present from the 1st of January 'til the 31st of December: not all companies can say the same.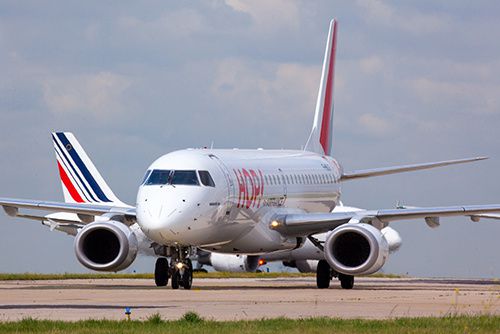 HOP you are already there

Translated by Carrie