Curious about Queenstown? Wondering what all the fuss is all about? Well if you'd like to up your heart rate and experience something truly thrilling and adventurous - then you need to head to the resort town of Queenstown, New Zealand.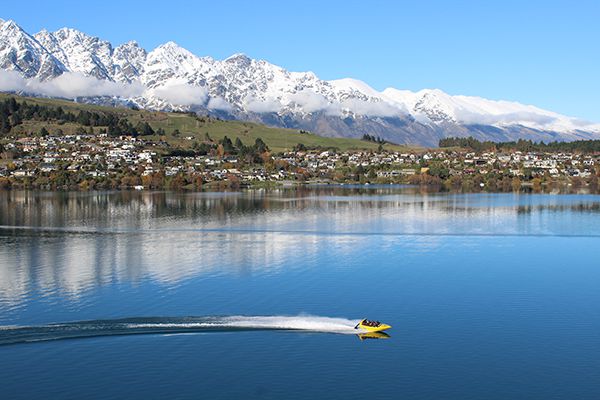 The non-stop fun-factor and adrenaline pumping activities are enough to leave you with stories that last a lifetime. When it comes to luxury experiences in this vibey part of New Zealand, look no further than a stay at Villa Del Lago, who recently swept away the title for The Best Luxury Hotel in Queenstown, New Zealand 2020, from the prestigious Luxury Lifestyle Awards, headquartered in New York.
The Villa del Lago is a small boutique complex of premium condo style apartments and King Suites. Combining a luxury stay with all the gripping attractions is a match made in travel heaven.
Queenstown is situated in Otago, located on the south-west of South Island. It cradles the shores of the glittering Lake Wakatipu, with the dramatic Southern Alps mountain range as its backdrop. The visual enchantment is a sight to behold, attracting travellers from around New Zealand and the world to marvel at her mesmerising beauty, pristine natural splendour, and of course, to partake in the smorgasbord of rip-roaring recreation. It's clearly not known as
'The Adventure Capital of the World' for nothing, being the birthplace of bungee jumping, plus offering zip-lining, alpine skiing, skydiving, white water rafting, paragliding, four-wheel driving, off road and mountain biking, hiking, scenic-flights, off road buggy expeditions, water sports, jet boating through icy river canyons, trails and bike riding.
Naturally, it draws huge crowds during the summer and winter seasons, but peace and tranquility can always be found up the mountain, alongside the lake, or of course, at Villa Del Lago - the luxurious villas and suites on the shore.
This lakeside accommodation is all self-contained, which means no communal area health risks to worry about. You can really just arrive, and relax. Thanks to the outrageously gorgeous natural surroundings, guests are awe-struck by the twinkling clear night sky and Milky Way, the snow capped peaks, the bluest-of-blue skies and of course, the glistening waterfront - all from your own terrace or private balcony. Their majestic lake and mountain views are available from all the accommodation options, securing a most scenic stay. The Queenstown hiking and cycling trail runs just below the complex affording great tranquillity as all vehicle traffic is kept well away from the hotel.
The category of room options include one bedroom King Suites, and two and three bedroomed villas - all completely serviced. They all feature separate bedrooms, gas fireplace, spacious living areas, fully equipped kitchen for meal preparation, private bathrooms, separate laundry areas and an exterior balcony or terrace. In addition, small touches like the complimentary condiments in the kitchen, complimentary toiletries, hairdryer, heated towel rail, underfloor heating, free unlimited wifi, Bose Ipod dock, two Smart TV's, and sports gear lockers that communicates care and well-thought out hospitality.
The decor and furnishings are modern and contemporary, creating a stylish abode from which to enjoy the myriad of opportunities in the scintillating town.
The business is owned and operated by a husband and wife team, Nik and Charlotte Kiddle. Front of house staff offer a warm welcome and full concierge services for those seeking advice on activities and restaurants.
Daily housekeeping services allow guests to enjoy the surrounding areas with confidence that rooms will be immaculate on return. Full kitchen facilities mean catering is a breeze for those indulging in home cooked meals. Guest luggage is stored safely free of charge for those heading out on multi day treks and returning to the comforts of these premium apartments.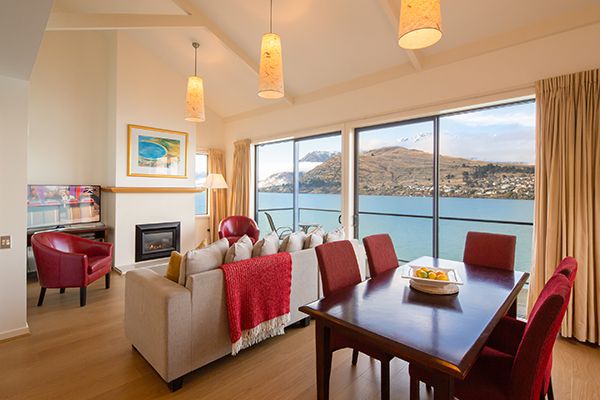 It's not all a rushed pace and frenzied energy in Queenstown. For example, with over 70 local wineries offering seasoned wine lovers a sensational vino experience. Brave wine pioneers are blazing a trail of new styles to be enjoyed and savoured the world over. Spectacular vineyard landscapes captivate all who gaze on her beauty.
Other relaxing pastimes are taking a day trip out to Milford Sounds, one of the most beautiful places on earth, bursting with greenery, waterfalls and marine life. How about visiting the The Onsen Hot Pools Retreat and Day Spa… only 10 minutes out of Queenstown and located on a cliff edge. Bask in hot tubs overlooking the alpine landscape and indulge in beauty & massage therapy - could anything be more sublime?
Another exceptional experience is booking a scenic flight trip (a small plane or helicopter), budget allowing, that takes you over the rugged and steep mountain ranges and swoopes you over the lakes for an unforgettable visual of the natural terrain.
Villa Del Lago has impressed on every level, and stands as a proud hospitality service provider to Queenstown endorsed by Luxury Lifestyle Awards - this is one to bucket list.