On 14 March, the Meet Vincent van Gogh Experience opens in the cultural heart of Barcelona (Port Vell). Based on the knowledge and expertise of the Van Gogh Museum, this travelling 3D experience invites visitors to journey through the fascinating life of Vincent van Gogh. The Experience explores the story of the man behind the world-famous painter and the motives of his artistry: to offer hope and to express his emotions, in all their cruelty and mystery, but also in their beauty.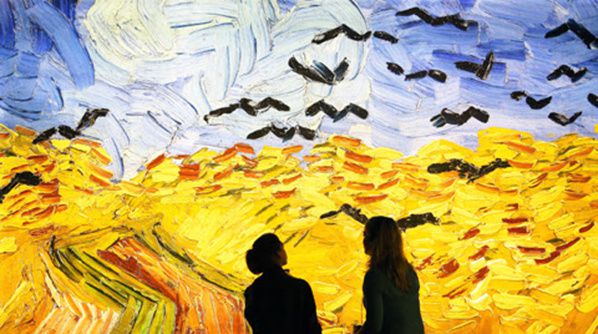 The Meet Vincent van Gogh Experience comes to Barcelona and Seoul
Opens 14 March in Spain and in Spring in Korea
Adriaan Dönszelmann, Managing Director of the Van Gogh Museum: 'With this new location for Meet Vincent van Gogh, we support our mission to make the life and work of Van Gogh and his contemporaries, and the art of his time, accessible to millions of people all around the world. The Experience previously won the prestigious TEA Award for entertainment, offering confirmation that it contributes to this mission.
Such a concept makes it possible for the Van Gogh Museum to offer a Van Gogh Experience simultaneously in multiple places. Vincent van Gogh is hugely popular in Southern Europe. We are therefore pleased that the new location is in Port Vell, Barcelona's old harbour, allowing us to bring something unique to this popular Spanish city, for both its visitors and its residents.
We have two sets of the Experience and are proud to already announce that the second set will also be on show this Spring. Just now the word is out that this set will travel to Seoul, Korea for all Asian Van Gogh fans to see'
Experience, discover and try for yourself
Visitors to the Meet Vincent van Gogh Experience journey through the intriguing life of Van Gogh, guided by life-sized projections of works, photographs and film fragments, detailed reproductions, multimedia interactives and applications, theatrical pieces of scenery, audiovisual scenes and quotes taken from more than 800 letters.
The audio tour brings numerous figures to life: Vincent van Gogh himself, his brother Theo, his sister-in-law Jo Bonger, his mother and other key players. Surrounded by lifelike theatrical pieces of scenery from locations including the Parisian cafe Le Tambourin, the hospital in Saint-Rémy to which Van Gogh was admitted for a period of time and the Yellow House in Arles, visitors are transported back to key locations in Vincent's life.
The attention to detail in Meet Vincent van Gogh is tremendous: the reproductions of Van Gogh's palette and other materials are true to life. Visitors can use a perspective frame just like Vincent's, and even the famous pair of shoes depicted in one of his renowned works has been faithfully reproduced.
Knowledge and expertise
Meet Vincent van Gogh is primarily focused on visitors experiencing, discovering and trying things for themselves. On doing as Van Gogh did, in order to get closer to the life story and the world of this acclaimed artist.
For example, in the opening scene, visitors find themselves in the middle of the wheatfield where Van Gogh fatally wounded himself. They are alarmed by a pistol shot ringing out, see crows flutter into the sky, feel the Provençal breeze and hear the voice of Van Gogh quoting from one of his final letters to his brother Theo. The visitor becomes an integral part of this lifelike scene.
Meet Vincent van Gogh is the only official Van Gogh experience created by the Van Gogh Museum. Meet Vincent van Gogh goes a step further than other travelling initiatives focused on the artist. It is a complete experience in which education and entertainment go hand in hand. It is a journey through Van Gogh's life in six chapters, based on the extensive knowledge and expertise of the Van Gogh Museum's curators and Education Department.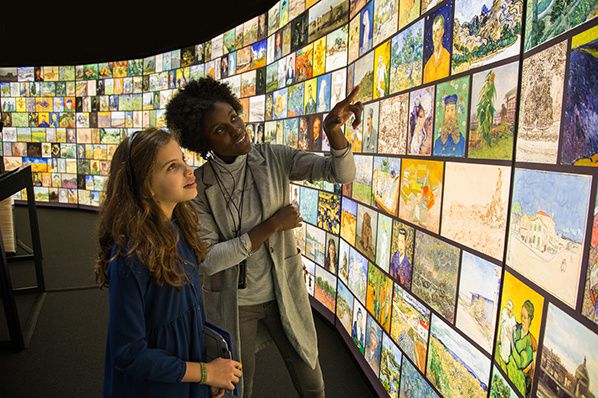 Entrepreneurship in the cultural sector
Dönszelmann: 'Our collection is vulnerable, and transport options are limited. Meet Vincent van Gogh offers us the opportunity to explore a new approach to presenting the life and work of Van Gogh, and in doing so, respond to the ever-growing global interest in Van Gogh's life and work.
Our professional partner in this venture is Proactiv, a Spanish entertainment company with more than 30 years experience in the field. Proactiv is the market leader when it comes to the successful production and organisation of family entertainment and events and was behind recent hits such as Harry Potter in Concert and exhibition The Art of the Brick DC Comics in Madrid.
It goes without saying that we are looking forward to this partnership. Besides that our other set of the Experience will travel to Korea this Spring, and we are delighted that meaningful contacts have been developed with regard to other locations for the Experience in the years ahead, both elsewhere in Southern Europe and in countries further afield'.
The Van Gogh Museum generates more than 85% of its income from ticket sales, commercial activities and collaborations with various companies, private individuals, funds and foundations. Dönszelmann: 'In the current financial climate, it is apt that the museum extends its efforts to include innovative concepts, while naturally endeavouring to strike the correct balance between core museological activities on the one hand, and commercial initiatives on the other.
The museum is dedicated to cultural entrepreneurship and with these two new locations for the experience, we are again making significant progress'.