Airways New Zealand and Aireon Agree to Cooperate on South Pacific Operational Validation
Preparing agreement for ANSP to receive space-based ADS-B data to develop cross-regional air traffic management procedures
Airways New Zealand, New Zealand's Air Navigation Service Provider (ANSP) and Aireon LLC announced today that they have signed an agreement in principle to enter into an operational validation trial.
This agreement will pave the way to a formal operational validation agreement allowing for the development of operational concepts for air traffic management in South Pacific airspace and long-range flow management procedures to major New Zealand destinations. These operational concepts will be based on the use of space-based Automatic Dependent Surveillance-Broadcast (ADS-B) data to leverage the efficiency and safety benefits of a global air traffic surveillance capability.
This agreement comes 20 months after the execution of a Memorandum of Agreement (MOA) between Aireon and Airways to execute a benefits analysis for deploying space-based ADS-B in their region. Airways also plans to use Aireon data to determine the best configuration of planned terrestrial-based ADS-B installations, augmented with space-based ADS-B, to ensure the most cost-effective use of the designated infrastructure.
Airways chief executive officer Ed Sims says Airways is excited to be exploring the possibilities of this new capability. "Once we have completed the formal agreement we will, over the next three years, work with Aireon to investigate how satellite-based surveillance could enhance our air traffic management services in the South Pacific airspace.
"We are looking forward to seeing how continuous monitoring via satellite could provide enhanced safety, traffic flow and efficiency benefits to our customers."
"We are very excited about the developments with Airways," said Don Thoma, chief executive officer, Aireon. "We have worked closely with Airways to determine the possible applicability of space-based ADS-B in the South Pacific." He added, "Airways is known for their strong desire to deliver value to their customers, and we look forward to taking the next step to assess the potential for deployment of space-based ADS-B in their region."
Aireon's system will be operational in 2018, upon completion of the Iridium NEXT satellite constellation. The service will provide ANSPs with global air traffic surveillance and airlines with real-time flight tracking. It is expected to help reduce fuel costs, increase safety, and enable more efficient flight paths.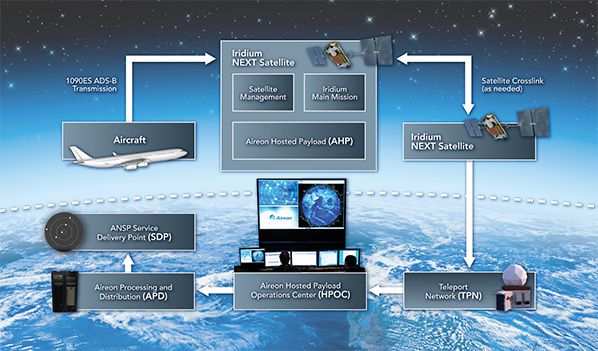 About Aireon LLC
Aireon is deploying a global, space-based Automatic Dependent Surveillance-Broadcast (ADS-B) system capable of surveilling and tracking ADS-B equipped aircraft around the globe in real-time. The system will be used to provide ADS-B coverage that will span oceanic, polar and remote regions, where current surveillance systems are limited to line-of-site and densely populated areas. Aireon will harness the best of aviation surveillance advancements already underway and extend them globally in order to significantly improve efficiency, expand safety, reduce emissions and provide cost savings to aviation stakeholders. In partnership with leading ANSPs from around the world, NAV CANADA, ENAV, the Irish Aviation Authority (IAA) and Naviair, as well as Iridium Communications, Aireon is developing an operational, global, space-based air traffic surveillance system expected to be available by 2018. For more information about Aireon, visit: www.aireon.com.
About Airways New Zealand
Airways is a world-leading commercial Air Navigation Service Provider (ANSP), and operates in New Zealand as a State-Owned Enterprise (SOE).
We look after key aviation infrastructure around New Zealand and manage the more than 1 million traffic movements per year into and around New Zealand's 30 million square kilometres of airspace.
Airways provides air traffic control and engineering training, and has delivered air traffic management, Flight yield revenue management solutions, navigation services and consultancy in more than 65 countries.
For more information about Airways please visit www.airways.co.nz