The new LEYYA single "Wannabe" which has just premiered over at The Line Of Best Fit! After securing their place at the hears of many and racking up nearly 9 million streams to date, LEYYA is ready to share their newest single. "Wannabe" follows the success of their glistening sophomore album "Sauna" and feature Sophie's unwinding, yet lively vocal delivery against playfully agile beats and bubbling synthesizers.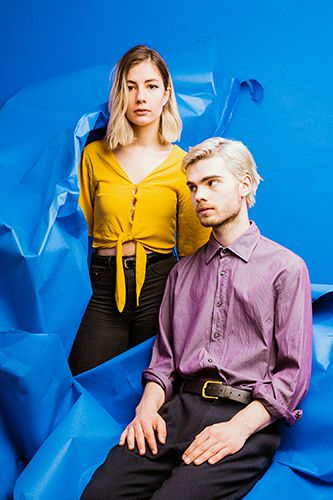 Single "Wannabe"
Austrian pop-duo LEYYA share their latest spirited single "Wannabe" and accompanying music video by Nowness featured Rupert Höller set for release on 20th July via Las Vegas Records/ +1 Records, after the success of their highly anticipated, glistening sophomore album "Sauna" released in January. Having stacked up nearly 9 million streams so far, the duo have received cosmic success through substantial tastemaker support from the likes of Pigeons and Planes, Complex, Noisey, V Magazine, Wonderland Magazine, Clash Magazine, Konbini, The 405 and Consequence of Sound, to name just a few. LEYYA have also made incredible waves receiving airplay via Beats 1, BBC during Radio 1's Huw Stephens and Phil Taggart, The Zoe Ball's Show, BBC 6 Music's Lauren Laverne Recommends among many others including Virgin Radio Playlist, KCRW, Radio 1 Playlist in Germany and Austria's FM4's Radio Charts securing their place in the hearts of many.
Sophie Lindinger and Marco Kleebauer are the masterminds behind LEYYA. Their thrilling debut LP "Spanish Disco" was an instant victory; the hit single "Superego", picked up over 3 million plays on Spotify and over 700,000 Youtube views, putting the pair directly on the map to triumph with colossal festival performances, extensive airplay and various television/film appearances. Over the past few months, LEYYA have been hitting festivals hard, appearing at Iceland Airwaves and deemed one of the "most exciting" on display via Consequence of Sound, while their show at Eurosonic Nooderslag was presented as "The best concert of this year's Eurosonic Festival" via Musikexpress.
These exciting opportunities led LEYYA to claim an Amadeus Music Award, thus steering the duo across the stages of other vastly celebrated festivals including, New York's Indie Week, The Great Escape, Liverpool Sound City, Tallinn Music Week, Primavera Sound and Electronic Beats at Reeperbahn Festival as well as headlining Popfest back home, where LEYYA performed to a crowd of 20,000 in front of the famous Karlskirche in Vienna's beautiful City Centre.
In early 2018, the duo set off to perform at Austin's SXSW Festival (USA), as well as a string of European dates and festivals sharing their undenying talent and idiosyncratic pop-antics across the globe. On the 18 of June, LEYYA opened for indie-rock icons Arcade Fire at Vienna's Stadthalle, holding a capacity of 16000, and then appeared live on European TV (Arte France/Germany/Switzerland/Austria) showcasing their stellar Maifeld Derby festival performance. The duo is now looking forward to their scheduled Fall Tour kicking off in October.
LEYYA's latest single "Wannabe" kicks off with delicate atmospheres and Sophie's unwinding, yet lively vocal delivery against playfully agile beats and bubbling synthesizers before erupting into high-spirited animation, and ocean-deep self reflection. Repeating the decorative phrase, "I wanna be like you wanna be like me", we dive into the minds and psyche of the duo's ability to spark and astonish.
Leyya says, "After releasing our Second Album 'Sauna' we tried to avoid the Post-Release-down with being creative and writing new music straight away. The song is circling around a problem almost everyone can relate to: Wanting to be like somebody else. Ironically – we find - its often also the other way around."
On the official music video for Leyya's "Wannabe", director Rupert Höller gives further insight, commenting: "'Wannabe' is about the feeling that there is always someone cooler, better than you and the endless circle this thinking causes. You may think your neighbor is better, your neighbor thinks his neighbor is better, and the neighbor's neighbor thinks you are better. In the video, we created a world where two clones are constantly fighting and making up again - like siblings that both hate and love each other, but both fighting for their status, both admiring and envying each other, and yet enjoying their company. This abstract world set in the glowing summer sun of Croatia's landscape visualizes the absurdity of the dissatisfaction with one's self and celebrates this feeling." LEYYA Live Dates:
21.07 - Fiberfib, Benicassim, Spain
27.07 - Taktraumfestival, Ingolstadt, Germany
17.08 - Funk am See, Luzern, Switzerland
18.08 - Dockville, Hamburg, Germany
08.09 - Brucknerhaus/Klangwolke, Linz, Austria
Fall Tour:
03.10 - Rockhouse, Salzburg, Austria
04.10 - Cinema Paradiso, St. Pölten, Austria
14.10 - Sixdogs, Athens, Greece
17.10 - Ekko, Utrecht, Netherlands
19.10 - Artheater, Köln, Austria
23.10 - Sebright Arms, London, United Kingdom
25.10 - Glockse, Hannover, Germany
26.10 - Engelsburg, Erfert, Germany
17.11 - Sub, Neustadt, Germany
23.11 - ppc, Graz, Austria
24.11 - OKH, Vöcklabruck, Austria
27.11 - Konzerthaus, Wien, Austria
28.11 - Konzerthaus, Wien, Austria