Trumpeter Mattia Salvadori and guitarist Diego Ruschena have given birth to a project which buries its roots into black american music. Their repertoire ranges from New Orleans' tipical jazz blues (Bessie Smith, Louis Armstrong), historical soul music ballads (Ray Charles, Sam Cooke), up to 60's and 70's funk (Pee Wee Ellis, Maceo Parker, Herbie Hancock).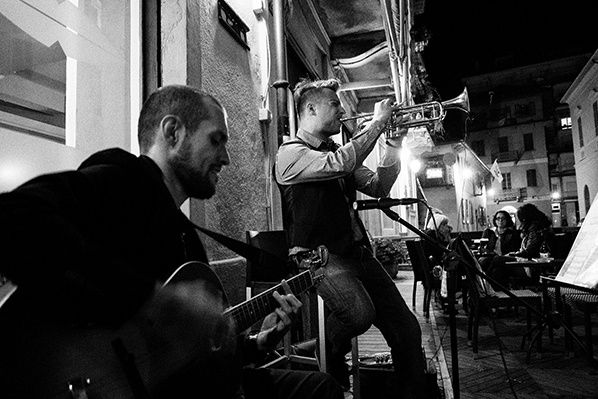 Georgia on my mind
Since Monday 6th November 2017 their interpretation of the famous standard Georgia on my mind will be online at mmmBop Promo YouTube channel. The videoclip has been shot at the beautiful Giardino Scotto Park in Pisa, hometown of the two Italian musicians.
Video Director: Daniele Milano; Audio Engineer: Alessandro Sportelli.
Hoagy Carmichael's tune, hymn for integration made famous by Ray Charles' version, has been played in a totally acoustic setting, where musicians' complicity succeeds on keeping intensity at the highest level.
First winter tour
In fact, the magnetism which features their live set is the driving force of their first winter tour, starting Thursday 23rd November 2017 at Il Sottobosco Café in Pisa. There will follow other gigs at main Italian cities of Turin, Milan, Rome, and also some dates in England: this opportunity was made possible by an English promoter, met during the Black Music duo show in the Italian city of Domodossola. Gigs updates will be announced soon at the Facebook page MmmBop Promo.
Mattia Salvadori
Mattia Salvadori (trumpet, flugelhorn soprano) studied and perfected with Fabrizio Bosso, Antonio Sanchez, Tom Harrell, Adam Cruz, Danny Grissett, Ugonna Okegwo, Sax Gordon, Steve Herrman, Fabio Morgera, Tony Cattano and more. He has played with the Italian projects Borrkia Big Band since 2010 and Fuochi di Paglia since 2015, exhibiting in many live clubs and festivals around Italy and Europe. He has played many music genres as rhythm'n'blues, soul, rock'n'roll, blues, swing, folk, songwriting, pop, jazz, surf, funk, house, edm, electro, hip hop, collaborating with various producers and bands.
Diego Ruschena
Diego Ruschena (guitar, percussions, loop station) graduated in classical guitar and perfected with Paolo Pegoraro, Adriano Del Sal, Flavio Cucchi, Antigoni Goni, Margarita Escarpa. He deepened modern guitar and improvisation with Gabrio Baldacci, Tony Vaiana and more. In addition to his solo project he plays with southamerican folk groups, Italian songwriters, Brazilian roda de choro and black music bands. He released two albums with alternative rock band Miriam Mellerin, exhibiting in over 100 concerts around Italy and Europe. He teaches Musical Education, Guitar and Bass guitar at Music Academies and Public Institutes.