Award-winning national financial services company eclipses 80,000 projects across 15 states creating thousands of jobs along with cost savings for homeowners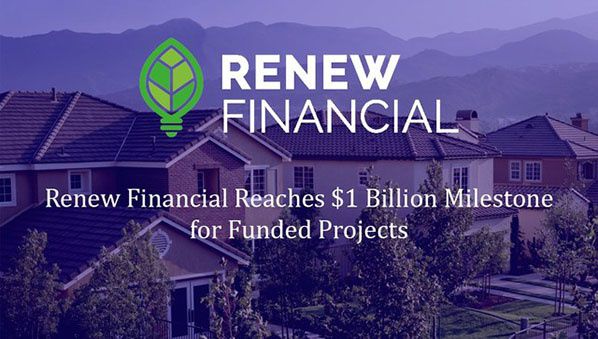 Award-winning national financial services company eclipses 80,000 projects across 15 states creating thousands of jobs along with cost savings for homeowners.
Renew Financial Reaches $1 Billion Milestone for Funded Projects
Renew Financial,
Renew Financial, a leading clean energy finance company, today announced that it has reached a milestone of $1 billion in funded projects across its Property Assessed Clean Energy (PACE) and EnergyLoan™ financing programs. Reaching this milestone demonstrates the success of Renew Financial's promise to partner with homeowners to make affordable and easy the process of upgrading their home with energy efficiency, renewable energy and water efficiency innovations.
"Demand for money-saving residential efficiency and renewable energy upgrades is soaring across the country, and all indicators show strong growth ahead," said Cisco DeVries, CEO of Renew Financial. "This milestone reinforces a clear message: Policy makers across the political spectrum, contractors, homeowners, and investors are using the power of our financing products to save energy, save money, create jobs, and produce environmental benefits. This is a true win-win."
With this project funding milestone, Renew Financial has helped to:
Create more than 15,000 jobs across 15 states

Conserve 877,176,637 gallons of water – enough water for 48 million showers1

Realize over $1.5 billion in energy savings over the life of its projects

Cut total greenhouse gas emissions by 2.3 million metric tons – equivalent to the yearly emissions of 485,000 cars2

And fund nearly 83,600 projects through the end of 2016
"The achievement of $1 billion in funded project volume is a testament to the importance of our financing solutions in the marketplace. Through our competitive, customer-friendly financing options, we have helped thousands of homeowners access the capital they needed to meet urgent home repair or replacement needs, or to take a proactive approach to lowering their energy or water consumption. As a result, our customers are living more comfortably and affordably, and we are saving our natural resources at the same time. We are proud to be making a difference in the lives of so many American homeowners," commented Gannesh Bharadhwaj, President of Renew Financial.
Renew Financial's goal of making home efficiency upgrades affordable and transparent adheres to the highest standards, including government accountability and partnership agreements, an unmatched and enthusiastic contractor network and the industry's strongest consumer protections.
"Energy Remodeling has seen tremendous growth across California and Renew Financial has been an important part of that journey," said Ilan Benisty, CEO of Energy Remodeling, a Renew Financial Elite Preferred Contractor. "Their financing is an important tool for helping our customers invest in energy efficiency projects for their homes. As we look to expand our operations to Florida, we are excited to continue working with Renew Financial to open up a new market of growth for both our companies. We are proud to have been a part of their achievement."
Having reached $1 billion in funded projects, Renew Financial recently expanded its business to Florida, where many homeowners and businesses will now benefit from Renew Financial's financing options that make home efficiency upgrades affordable. Going forward, Renew Financial will continue to seek expansion opportunities across the 33 states which have passed PACE-enabling legislation.
"Renew Financial has filled an important financing need in the market. Rather than force homeowners to pay for their efficiency projects using credit cards at high and potentially variable interest rates, our PACE financing provides homeowners with fixed-rate, fixed-payment financing at rates similar to home equity loans, eliminating the uncertainty associated with other payment methods. These financing benefits, combined with the strong consumer protections we have in place which ensure cost-effective products are installed, create a compelling solution for homeowners and has led to this milestone in our history," said Kirk Inglis, CFO of Renew Financial.
About Renew Financial
Renew Financial is one of the nation's leading clean energy financing companies. Founded in 2008 by former White House appointee and U.S. Department of Energy official Cisco DeVries, who originated the concept of Property Assessed Clean Energy (PACE), Renew Financial now provides multiple financing products across the country. PACE enables property owners to finance the entire cost of energy and water efficiency and renewable energy upgrades to their homes and businesses, and then repay those costs on their property tax bill. Named by Scientific American as one of the "top 20 ideas that can change the world," PACE was identified as a national clean energy policy priority by President Obama in 2015, and received favorable regulatory guidance from the Federal Housing Administration (FHA) in July 2016. Renew Financial's other financing products include residential unsecured loans (ReHome), utility on-bill financing, and others. Renew Financial partners with Rainforest Trust to preserve endangered rainforests with a donation made for every completed project.
Renew Financial is a pending trademark of Renew Financial Group LLC. The Renew Financial PACE program is sponsored by the California Statewide Communities Development Authority or by Los Angeles County and is administered by Renew Financial Group LLC.
Additional information may be found at:
renewfinancial.com | @RenewFinancial |LinkedIn | Facebook | Blog
1 18 gallons per shower, source:
https://www3.epa.gov/watersense/docs/ws_shower_better_learning_resource_508.pdf
2 4.7 metrics tons per car per year, source:
https://www.epa.gov/greenvehicles/greenhouse-gas-emissions-typical-passenger-vehicle-0
SOURCE Renew Financial