Czech Republic chooses SITAONAIR to deliver Prague's ATC communications gateway
Communication gateway to the capital's airport
The Czech Republic's air navigation service provider has appointed SITAONAIR to deliver a "communication gateway" to its capital's airport.
SITAONAIR will support air-to-ground data link applications to Prague Airport through its Aircraft Communications Addressing and Reporting System (ACARS) network. The ambition is to extend this capability out to other Czech airports in the future.
SITAONAIR's communication gateway will provide a channel for Air Navigation Service of the Czech Republic (ANS CR) to send Digital Automatic Terminal Information Service (D-ATIS) and data link departure clearance (DCL) messages to aircraft.
This will be equally beneficial to pilots and Air Traffic Control (ATC), replacing routine messages on congested voice frequencies with digital messages, to minimize the risk of misunderstanding. It will also reduce air traffic controllers' and pilots' workloads by ensuring ATC messages in the cockpit are displayed on screen, or printed in-cockpit. This will ensure that pilots won't have to rely on interpreting bad quality voice messages.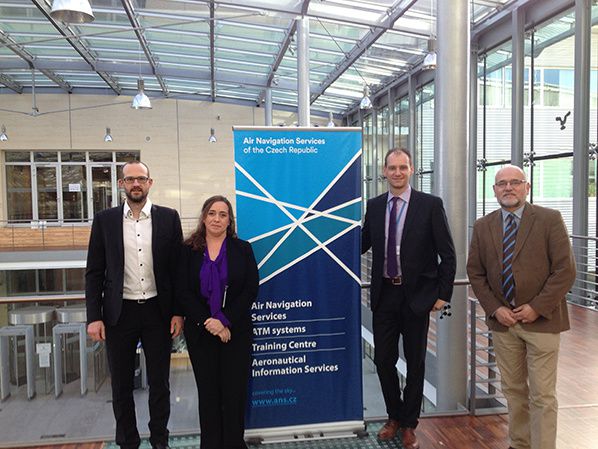 (L-R) SITAONAIR's Damien Gautherin and Agnes Roegel with Ivo Priplata of ANS CR, and Patrick Geurts, also of SITAONAIR credit photo SITAONAIR
François Bardin, Head of Air Traffic Service Solutions at SITAONAIR, said: "It is a source of pride to us that we have been chosen to deliver this project for the Czech Republic's air navigation service provider.
"Establishing this new communications gateway for ground-to-air data link applications, using our data link network, will not only greatly enhance our existing service for ANS CR, and the consistency and safety of controller-pilot communications, but offer complete end-to-end support."
Ivo Priplata, ATM/CNS expert, COM domain of Air Navigation Services of the Czech Republic, ANS CR, added: "SITAONAIR was an easy choice for us to deliver what will be a very important enhancement to our ground-to-air data link communications capabilities.
"Nearly 800,000 aircraft movements in Czech airspace, including some 200,000 arrivals and departures, were handled by us in 2015 alone. The addition of SITAONAIR's data link communications infrastructure will therefore be a very important evolution in reinforcing the flows of efficient, reliable and safe communications in Czech airspace."
To discover our Air Traffic Control solutions, click here, or for cockpit solutions, click here. You can find out more about SITAONAIR by visiting www.sitaonair.aero.
About SITAONAIR
SITAONAIR is the air travel industry's trusted connected aircraft service expert. With its unrivalled industry-backed heritage, SITAONAIR empowers 400+ airlines, 14,000+ aircraft and 30+ operators to navigate the complexity of connectivity and unlock connected aircraft value. We work in partnership with the air travel community, helping support its digital transformation, to unlock the true value of data, grow ancillary revenues, and enhance the passenger experience, operational efficiency and airline safety. Our co-created solutions for passengers, cockpit and cabin crew, and aircraft data management, equip the industry to address the challenges and value-generating opportunities it presents. We support Air Navigation Service Providers in defining and implementing next generation solutions of Air Traffic Management.
SITAONAIR is a subsidiary of The SITA Group, which is airline-owned and airline focused. Find out more by visiting www.sitaonair.aero