The UAS (Unmanned Aerial Systems) industry includes a variety of aircraft and platforms necessary to accomplish a growing number of mission profiles and applications. There is a lot of interest in small (under 55 lbs.) platforms for commercial applications and for hobbyist, but there is also a growing demand for larger aircraft that carry larger payloads, fly higher altitudes and travel greater distances.
A Desert Oasis for Testing Big UAS
Mesquite, Nevada
To date, this is the largest UAS platform over 55 lbs. that NIAS has flown in Nevada reflecting the opportunity Nevada offers to companies that have big commercial UAS platforms destined for military, government, or commercial purposes.
"Nevada is a great testing and training location for UAS and has year-round flyable weather as well as demonstrates incredible community support for growing UAS companies," said Dr. Chris Walach, Director of the FAA-designated UAS Test Site. "The Mesquite UAS Test Range, is another example of a public–private partnership between the Nevada Institute for Autonomous Systems (NIAS) and local government," Walach said.
NIAS and the City of Mesquite, Nevada facilitated flight operations for Arcturus UAV at a rural city-owned UAS test range in Mesquite. "We are very supportive of the UAS industry," said Mesquite Mayor Allan Litman. "Clients can come to the area and conduct their testing, training and demonstrations in an area that is virtually free from general aviation manned traffic." Mayor Litman also highlighted the abundance of hospitality amenities available to support any size group.
"We are excited to partner with NIAS in their support of the FAA mission to safely integrate UAS into the National Airspace (NAS)," said D'Milo Hallerberg, President of Arcturus UAV, LLC.
"Our collaboration with Arcturus UAV began last fall when we executed a teaming agreement to conduct flight testing in Nevada," said Mark Barker, Director of Business Development at NIAS. "It's exciting to see the capability of a larger UAS that fly longer distances and carry larger payloads. In addition, the catapult launch and optional vertical take off and landing capability is awesome."
The Nevada UAS test site has variety of ranges from North to South where clients can come to test, develop and train. The Mesquite UAS range is approximately 9 miles Southwest of Mesquite covering 1400 acres and at field elevation of 4900 feet.
About Arcturus UAV:
Arcturus UAV manufactures advanced tactical unmanned aircraft for long endurance ISR missions. The T-20 and Jump 20 aircraft can carry multiple payloads including a full range of gimbal sensors, SIGINT, providing full motion video and communication relays up to 70 miles. competitive global drone market and is on the fast track to mass-market success.
About the City of Mesquite, Nevada:
Located just a short drive Northwest of Las Vegas, the city of Mesquite offers an approved, secluded operation location, exceptional flying weather and all the amenities of the big city without all the attention.
About the Nevada Institute for Autonomous Systems (NIAS):
On behalf of the Nevada Governor's Office of Economic Development, the Nevada Institute for Autonomous Systems (NIAS) and FAA-designated Nevada Unmanned Aviation Test Site leads the growth of the Nevada Unmanned Aviation Systems (UAS) Industry through business teaming relationships, collaborating with primary research institutions on UAS research and development, and enhancing the Nevada UAS Industry knowledge base to attract new and permanent business and create jobs in the State of Nevada. Learn more at www.nias-uas.com or www.flynevada.com
SOURCE Nevada Institute for Autonomous Systems (NIAS)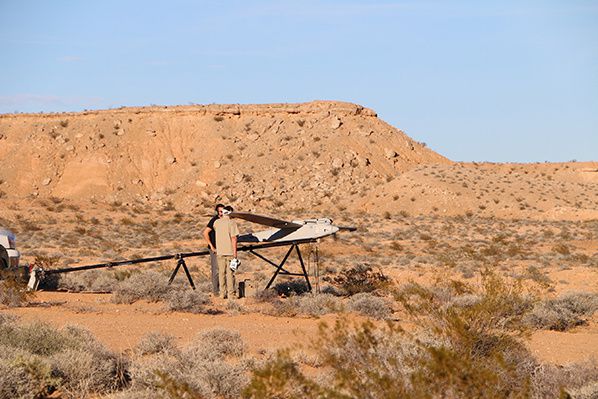 NIAS Arcturus UAV Flight Crew Credit photo ©NIAS