SESAR DEPLOYMENT MANAGER SIGNS MoU WITH MANUFACTURING INDUSTRY
To successfully manage the synchronised and coordinated implementation of Air Traffic Management Modernisation in Europe, SESAR Deployment Manager engages with a wide range of stakeholders within the aviation community.
Through several Cooperative Arrangements, SESAR Deployment Manager has already established strong relations with key partners such as: the SESAR Joint Undertaking, the European Defence Agency, National Supervisory Authorities, EUROCAE and the Network Manager since its start of activity in 2015.
Now, a step further is taken with the implementation of Memoranda of Understanding with all the Manufacturers having expressed their interest to cooperate with SESAR Deployment Manager as result of the call published in March 2016.
SESAR Deployment Manager's cooperation with the Manufacturing Industry plays an important role in the overall Pilot Common Project implementation by helping to connect better the industrialisation phase to both the research & development and deployment phases.
Full list of manufacturers with a memorandum of understanding with SESAR Deployment Manager in place:
Airbus Defense and Space SAS

Airbus DS SAS

Airbus SAS

Atos

Belgium S.A.

everis Aerospace and Defense

Frequentis AG

Harris Orthogon GmbH

Honeywell International Sarl

I.D.S. INGEGNERIA DEI SISTEMI S.p.A

Indra Sistemas S.A.; Leonardo S.p.A; Thales Air Systems SAS (Joint Agreement)

Inmarsat Navigation Ventures Ltd

Innov'ATM

m-click.aero

GmbH

Thales Raytheon Systems Company SAS

The Boeing

Company

WASKO S.A.
About SESAR Deployment Manager
SESAR Deployment Manager (SDM) is the industrial partnership that synchronises and coordinates the modernisation of Europe's air traffic management system under the political oversight of the European Commission.
The main task of the SESAR Deployment Manager is to develop, submit to the European Commission for its approval and execute the Deployment Programme, a project view strictly drawn from the Pilot Common Project (PCP) set by Commission Implementing Regulation (EU) No 716/2014, as well as any subsequent Common Projects in future regulations.
Through the Deployment Programme, the SESAR Deployment Manager will ensure efficient synchronisation and coordination of implementation projects required to implement the PCP, as well as the related investments.
The tasks of the Deployment Manager are described in Article 9 of Commission Implementing Regulation (EU) No 409/2013 .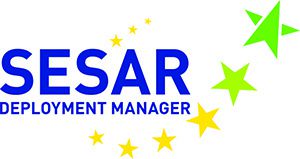 More information at www.sesardeploymentmanager.eu
Follow us on Twitter @SESAR_DM or follow us on LinkedIn