NATS and JANS strengthen relationship with formal agreement
NATS has strengthened its existing relationship with the Japan Air Navigation Service (JANS) with the signing of a Letter of Intent (LoI) at this year's World ATM Congress in Madrid.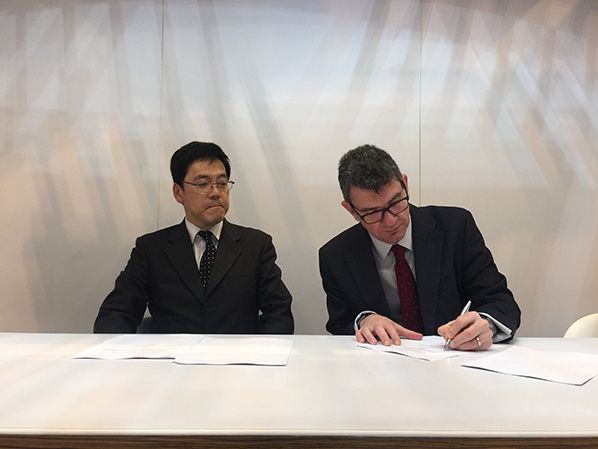 Photo caption left to right_JANS Director General Kimiharu Banno and NATS Chief Executive Officer Martin Rolfe sign landmark agreement at the World ATM Congress in Madrid
The agreement signals cooperation on an unprecedented scale and follows on from a previous Memorandum of Understanding (MoU) in 2014 and LoI in 2016, which focused on mutual areas of interest, particularly in the field of air traffic control.
The current LoI, signed on 8 March 2017, provides a more formal vehicle for both NATS and JANS to examine the efficiency and safety of Japan's air navigation, with NATS providing services in areas identified and prioritised by JANS. The LoI also covers some of the air traffic control requirements necessary ahead of the 2020 Olympics in Tokyo. This includes planning for the Tokyo Terminal Manoeuvring Area (TMA) amongst other technical requirements and draws on NATS' unparalleled experience in managing the complex and congested airspace over the south east of the UK.
NATS and JANS have worked together successfully for several years, most recently participating in an 'exchange program' that saw each organisation's Subject Matter Experts being embedded in the other's for several weeks.
The LoI was signed by Kimiharu Banno, Director General of JANS, and Martin Rolfe, NATS Chief Executive Officer.
Martin Rolfe, NATS Chief Executive Officer, said: "NATS is delighted to continue this close and rewarding relationship and work with the Japan Air Navigation Service as they prepare for the 2020 Olympics. Like the UK, Japan is surrounded by sea and therefore heavily dependent on civil aviation as an essential means of transport. It is also a time when there is extensive development and expansion of key airports in order to deal with increased demand for air services and so we look forward to sharing and exchanging best practices, skills and tools to support this growing aviation industry."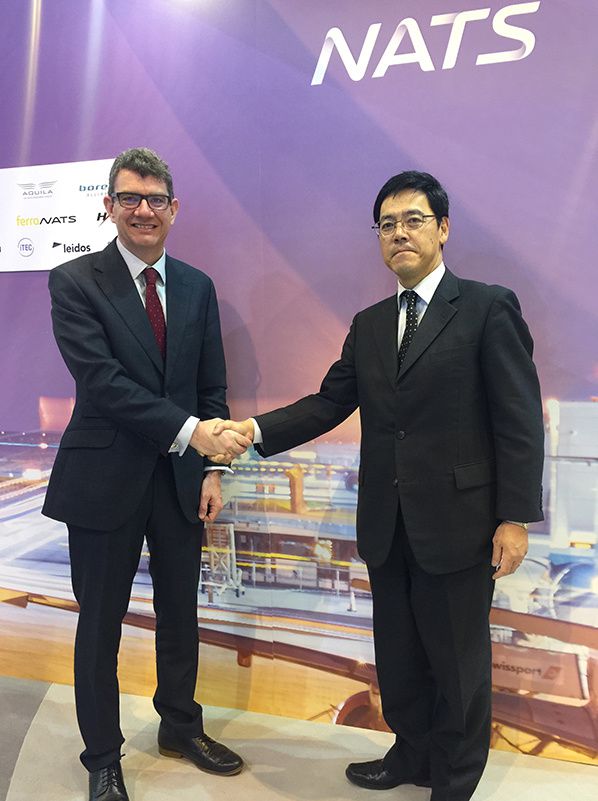 Photo caption Left to right_NATS Chief Executive Officer Martin Rolfe and JANS Director General Kimiharu Banno
About NATS
NATS is a leading air navigation services specialist, handling 2.3 million flights in FY 2015/16, covering the UK and eastern North Atlantic. NATS provides air traffic control from centres at Swanwick, Hampshire and Prestwick, Ayrshire.
NATS also provides air traffic control services at 14 UK airports including Heathrow, Stansted, Manchester, Edinburgh and Glasgow; at Gibraltar Airport and, in a joint venture with Ferrovial, at a number of airport towers in Spain.
Building on its reputation for operational excellence and innovation, NATS also offers aerodrome, data, engineering and consultancy solutions to customers worldwide, including airports, air traffic service providers and Governments. There is more information on the NATS website at www.nats.aero