Etihad Airways and NATS collaborate to improve global operations



Operational efficiency in all areas of hub operation
Etihad Airways, the national carrier of the UAE, is working with air traffic management specialists, NATS, to help deliver operational enhancements across its network, and improve the way the airline works with air traffic control providers and airport operators on airfield management procedures.
Guy Allison, a specialist from the NATS team at London Heathrow Airport, is currently based within the airline's Network Operations team working on a variety of projects including airfield operations around the Midfield Terminal Project at Abu Dhabi International Airport – one of the largest investment programmes in the Middle East.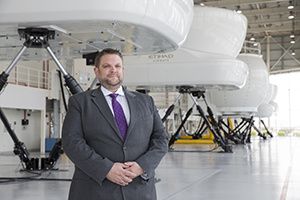 Guy Allison © NATS
NATS is assisting the airline by sharing its experience in the management of low visibility procedures in the UK, the flow of aircraft on the airfield, and improving the way the airline manages its processes around aircraft handling. With a growing fleet, the airline wants to ensure operational efficiency in all areas of its hub operation.
Continuing efforts
Chris Youlten, Senior Vice President of Network Operations at Etihad Airways, said
We're delighted to be working in partnership with NATS as part of our continuing efforts to improve the experience for our passengers. "
By improving aspects of our operational efficiency across the global network, we are able to refine the experience for our customers; ensuring our flights consistently operate to schedule and we are recognised as a world leader for on-time performance."
Locally-based operational and training expertise
NATS has been working with aviation partners in the UAE since 2006, where it has its regional headquarters.
The company continues to expand its footprint in the Middle East, with offices in both Oman and Qatar, providing dedicated, locally-based operational and training expertise. NATS also has a long term engineering and operational transition project team working in Kuwait.
Increased collaboration
Ben Kiff, Director at NATS Middle East, said:
Etihad Airways is one of the world's leading airlines and it's a privilege to be working with them to not only benefit their operations but the wider Abu Dhabi aviation community. "
The industry recognises the need for increased collaboration, and air traffic management – which is seen as the glue that connects airport and airline operations – can offer a unique perspective.
It is great to see Etihad Airways taking such a leadership position in this regard."
During 2016, Etihad Airways has continued to expand its global network of over 100 destinations. The airport hub in Abu Dhabi is undergoing significant investment to allow continued growth and push passenger numbers over 30m annual journeys.
About Etihad Aviation Group:
Etihad Aviation Group (EAG) is a diversified global aviation and travel group comprising four business divisions – Etihad Airways, the national airline of the United Arab Emirates, Etihad Engineering, Hala Group and Airline Equity Partners.
The group has minority investments in seven airlines: airberlin, Air Serbia, Air Seychelles, Alitalia, Jet Airways, Virgin Australia, and Swiss-based Darwin Airline, trading as Etihad Regional.
From its Abu Dhabi base, Etihad Airways flies to, or has announced plans to serve, 117 passenger and cargo destinations in the Middle East, Africa, Europe, Asia, Australia and the Americas.
The airline has a fleet of 122 Airbus and Boeing aircraft, with 204 aircraft on firm order, including 71 Boeing 787s, 25 Boeing 777Xs, 62 Airbus A350s and 10 Airbus A380s. For more information, please visit: www.etihad.com
About NATS:
NATS is a leading air navigation services specialist, handling 2.3 million flights in 2015, covering the UK and eastern North Atlantic. NATS provides air traffic control from centres at Swanwick, Hampshire and Prestwick, Ayrshire.
NATS Middle East has operated in the region since 2001 and works with clients across the United Arab Emirates, Oman, Qatar, Bahrain, Saudi Arabia and Kuwait. There is more information on the NATS website at www.nats.aero
Source: NATS communication