In his new memoir, It's All in the Speakers: My Journey Through the Madness of the Music Business, Solomon chronicles his experiences in the music world including crafting Billboard hits and watching his work rise to the top of the charts. But his rich repertoire of personal stories isn't limited to pop princesses and starry success. Solomon takes readers on a journey through his early years, being introduced to major musical influences via his father's New York club Cafe Au Go Go, where Jimi Hendrix first smashed a guitar on stage, to Solomon's struggles to make it as a solo artist.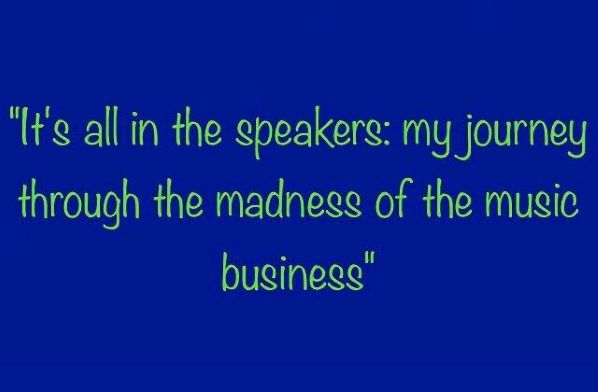 From his exposure to musicians in his youth in Florida, being skeptical of one suave, self-assured Brit who claimed he'd soon be one of the world's biggest pop stars…until he played his new demo "Wake Me Up Before You Go-Go," to struggling to survive selling clothes in Soho, to errand boy fetching "treats" for celebs at The Palladium, to sitting in on early recording sessions for Bobby Brown, Ratt, and Whitney Houston, Solomon's passion for music is revealed in his eclectic collection of insights and memories.
Serendipitous encounters with some of music's greats (and not so greats) include surprise writing sessions with Steve Jones of The Sex Pistols, singing for Tommy Mottola over the telephone, collecting awards while meeting his idol Elton John, and going toe to toe over music rights with major players who'd go on to become household names and reality television stars.
Solomon's story captures the heart of an aspiring singer/songwriter who finds success in writing for others rather than performing himself, the heartache of being told no, the outrage of being told, "You'll never work in this town again," repeatedly, to finding his way to make his voice heard. His experiences with nearly every major artist in the past thirty years are detailed with wit and charm, reveling in the thrill of stardom, and revealing the less than savory aspects of "making it" in the music industry.
Detailing shifts in the music business from the influences of DJs in the New York club scene to the BBC's Radio 1, to the rise of streaming music and Spotify, Solomon captures firsthand experiences with insight and the perspective of an artist who's survived it all. Throughout his narrative of the good, the bad, and the ugly, Solomon never loses his passion for music, nor his enthusiasm for encouraging young, emerging artists.
It's All in the Speakers evokes a sense of nostalgia and renewed excitement for the ever-changing music scene with a litany of anecdotes featuring the who's who of the music biz. With his authentic voice and conversational style, Solomon always has a story up his sleeve, and they spill out in a series of amusing to jaw-dropping tales that capture the spirit of why we love music.