Since 2015, the international competition "the ITA Tunnelling Awards" seeks and rewards the most ground-breaking innovation and outstanding projects in tunnelling and underground space use.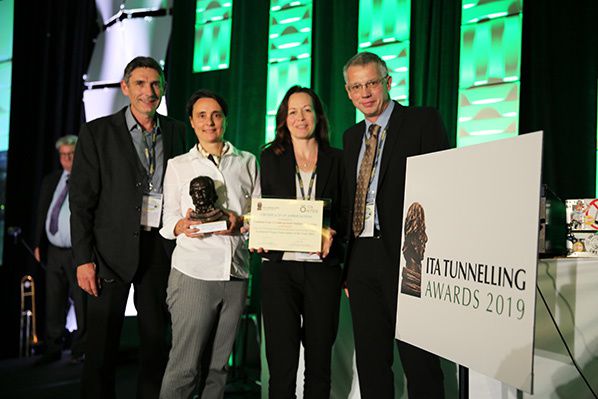 "Toulouse Line A Underground Stations extension" project awarded in international competition in Miami
This year the event took place in Miami in conjunction with Cutting Edge Conference of UCA of SME. After editions in Hagerbach (Switzerland), Singapore, Paris (France) and Chuzhou (China), the fifth ITA Tunnelling Awards moved to the United States of America for the 2019 event.
The four previous editions of the ITA Tunnelling Awards received 333 entries and 139 nominations, rewarded 41 projects and personalities and gathered almost 1000 attendees.
Through 8 categories and 1 Lifetime Achievement Award, the ITA Tunnelling Awards identifies and rewards major disruptive innovations and groundbreaking projects. This edition, the event took place in conjunction with the 8th Cutting Edge Conference. For the category "Technical Project Innovation of the Year", the French project was awarded.
Technical Project Innovation of the year - Line A Underground Stations Extension, Toulouse, France
The special feature of this project lies in building three underground station extensions, which required the removal of the tunnel lining, while keeping the subway in operation.
One of the operation complexities was the utter necessity to limit any inconvenience for the passengers, while guaranteeing the accessibility and security requirements of an automatic operating metro.
This needed to be done along with minimizing, as much as possible, the disturbance caused by the works on the very urban environment. A steel rib support lined with steel plates was placed around the tunnel during the summer 2017 and removed in summer 2018.
This tunnel shell isolated the construction site from the subway in operation. This made the construction of the diaphragm walls, the excavation on both sides of the tunnel and cutting of the lining in the extension are a possible.
At no time were the 220,000 passengers of the A Line aware of travelling in the heart of an underground construction site.
Client : Tisséo Ingénierie
Contractor : EIFFAGE GENIE CIVIL / I.CO.P SPA / BG Ingénieurs Conseils / Forézienne d'entreprises / Fontanié
Engineering Firms : Arcadis/Puig Pujol Associés/Betem
ITA Tunnelling Awards 2019
All the 2019 winners:
Major Project of the Year (over €500M) - Tuen-Mun Chek lap Kok Link - Northern Connection Subsea Tunnel Section - Hong-Kong, China
Project of the Year (between €50M and €500M) - Regional Connector Transit Project - Los Angeles, USA
Project of the Year incl. Renovation (up to €50M) - Modernization of the Vladivostok tunnel of the Far Eastern Railway, Russia
Technical Project Innovation of the year - Toulouse Line A Underground Stations Extension, France
Technical Product/Equipment Innovation of the year - Autonomous TBM, Malaysia
Innovative Underground Space Concept of the year - Underground Green Farming, Switzerland
Safety Initiative of the Year - Air Quality Working Group An industry-first collaboration on silica dust control, Australia
Young Tunneller of the year - Amanda Kerr, USA

Lifetime Achievement Award -

Dr.

Harvey Parker