Getting a glimpse of the majestic and luxurious Presidential Palace might have been a dream of many people. So for the first time, part of the presidential palace in Abu Dhabi has been opened up for the public.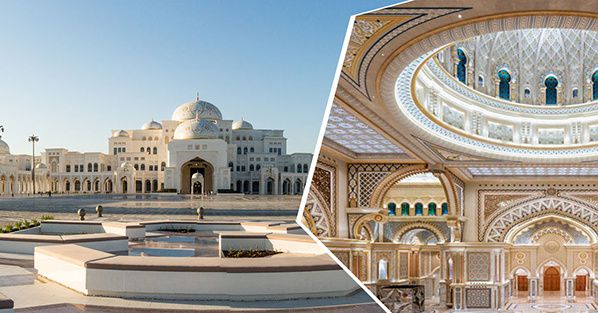 Abu Dhabi's Magnificent Presidential Palace
The Presidential Palace has always remained a hidden world and amazes network of beautiful, eye-catching buildings, white domes, and gardens. Hence, the Qasr Al Watan, which is inside the presidential compound is a new piece of attraction for tourists who want to learn about the United Arab Emirates culture. Till now, tourists have been mesmerized by the intricate artwork on the building.
The Presidential Palace of Abu Dhabi whose architecture has been inspired by the Mughal-era is bound to arouse the interest of the tourist. The beautiful gardens, atrium, and elaborate chandeliers along with a bright amalgamation of blue and white hues are going to be a visual treat for the tourists.
The Qasr Al Watan, also known as the Palace of Nation, is a part of the Presidential Palace and has an entire room dedicated to expensive and unique gifts given to the president of the UAE from visiting heads of state and foreign dignitaries of other countries.
When entering the building, tourists are first escorted into the great hall. The highlight of the palace is the library. Historical diaries, anecdotes, modern fiction form a part of the rich library collection. Visitors can read these books, get insights from titles that date back to the 17th century. From a section of the palace known Al Barza, visitors can learn about the traditional role of a Majlis. Visitors will have access to two rooms consisting of rare artefacts, books, manuscripts and antiquities from the Arab world. They can also learn about the earliest Arab contributions to human knowledge during the period of enlightenment referred to as the Arab Golden Age.
The announcement of throwing open the gates of Abu Dhabi's Presidential Palace was made by His Highness Sheikh Mohamed bin Zayed, Crown Prince of Abu Dhabi and Deputy Supreme Commander of the Armed Forces.
Updated 230222