Each year, the Wiener Weinwandertag (Vienna Wine Hiking Day) provides a vintage opportunity to explore the city's hillside vineyards and estates on foot. The countless wineries and Heuriger wine taverns along the way make for an experience to savor. Uniquely for a global capital, Vienna has more than 700 hectares of vineyards within its city limits.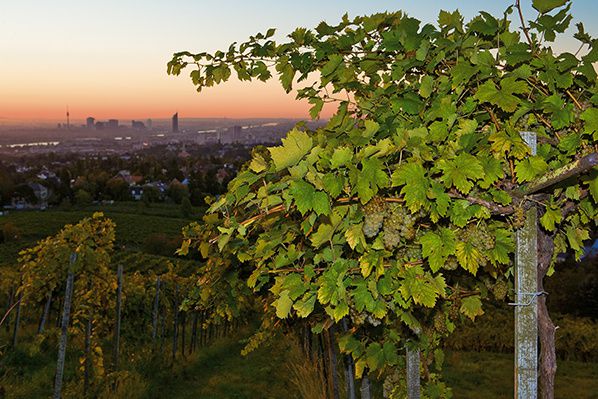 Culinary odyssey through Vienna's vineyards
Around 190 winegrowers tend the capital's vineyards, which are clustered around the Kahlenberg, Nussberg and Bisamberg hills as well as the suburb of Mauer. The Danube and the nearby Vienna Woods provide the ideal climate for vines to thrive. On September 29 and 30, 2018 the Wiener Weinwandertag opens up three routes covering a total of some 15.5 miles for enthusiasts to walk among the vines, pass the time and find out about the capital's unique winegrowing terrain. Numerous stops along the way provide an opportunity to sample the latest vintages, fruity grape juices and various local culinary delicacies. Walkers can look forward to beautiful views of the city below as a reward for their exertions.
Coming in at 6.7 miles, the longest of the three routes goes from Neustift to Nussdorf, both in the nineteenth district. On the way it takes in the suburbs of Sievering and Grinzing and the Weingut Wien Cobenzl winery – must-see highlights that provide an authentic insight into the capital's wine growing culture and wine tavern traditions. The trail through the vineyards is dotted with observation points, such as the ones on Bellevuestrasse, Muckenthal and Eichelhofstrasse.
The second goes from Strebersdorf to the wine tavern lined streets of Stammersdorf in the twenty-first district. Measuring 5.9 miles end to end, its appeal goes beyond beautiful landscapes. Tired walkers can stop off for refreshments and a bite to eat at one of the countless wine taverns en route. Families should make a beeline for the children's farm at the Magdalenhof estate on Bisamberg.
Extending for just 2.7 miles, route 3 – which starts at the picture postcard Schloss Wilhelminenberg in the sixteenth district and ends in Neuwaldegg – is the shortest of the three. This circular walk takes in Sprengersteig and Paulinensteig along the way.
Anyone who would prefer not to commit to the full distance can complete shorter sections of the main routes and plan in refreshments along the way. All of the routes are suitable for senior citizens and families with young children: there are specially signposted routes for pushchairs.