The role of women in aviation and the need for greater gender equality was the theme of a dedicated session on 6 March at the World ATM Congress. Organised by SESAR members and partners in close collaboration with the European Commission, the session highlighted the status of gender parity in the industry and what stakeholders are doing to strike the right balance.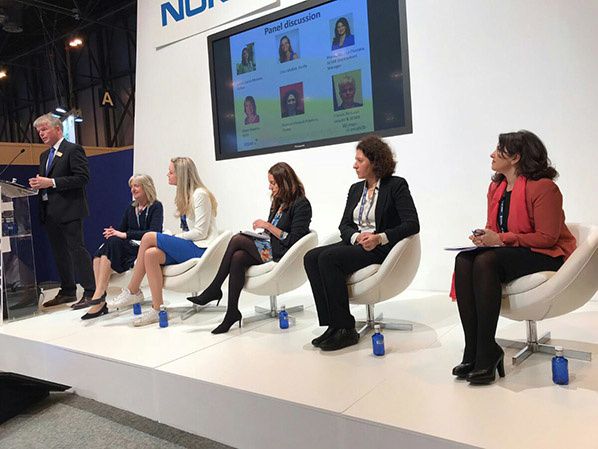 Gender Equality at Full Throttle
Aviation - with a 40% female workforce - has been more successful than other transport modes in the drive for gender equality. But despite the fact that equality is embedded into corporate human resources policies everywhere, the reality is that the ascendency of female executives into transport's truly senior roles is still statistically sparse - both in the boardrooms and on the flight decks.
To level the playing field, the European Commission recently launched 'Women in Transport - Platform for change' - a platform to promote gender equality agenda within the transportation sector. "If we want our society to flourish, we need to engage all of its talents, all of its human resources, at all levels. By engaging women and men, together, towards gender equality we will make it happen," European Commissioner for Transport, Violeta Bulc, told the audience in a video message.
Presenting the Platform, Matthew Baldwin, Deputy Director General, DG MOVE, called on more aviation stakeholders to sign up to the initiative and to propose specific (SMART) actions in favour of the employment of women in the transport sector. Both SESAR Joint Undertaking and Deployment Manager are signatories of the platform's declaration.
National stakeholders are also taking action, as illustrated by Ana Gomez Pineda, Head of Economic and Air Navigation Department, Agencia de Seguridad Aerea (AESA), who presented the Spanish "Ellas Vuelan Alto/Women fly high", the motto of which is "stop dreaming, start doing". Among its objectives, the network aims to give a voice and recognition to women that are already role models of success in the industry.
Gender balance enables more creativity and efficiency in the workplace, noted Florian Guillermet, Executive Director of the SESAR JU. He acknowledged more needs to be done to ensure parity in SESAR JU management and governance structure.
A lively panel discussion followed with women from the industry sharing their personal stories as well as initiatives that their companies are undertaking to encourage gender equality. They shared some takeaways:
Alison Roberts, NATS SESAR Contribution Manager and Programme Committee Observer on the Scientific Committee, SESAR JU: Women need to have the self-confidence to go for it, and at the same time organisations must provide an environment that encourages women to reach their full potential.
Belen Garcia Molano, Chief of Airworthiness for Military Aircraft, Airbus: There are signs that women are breaking through the glass ceiling, but we have to overcome anecdotal examples of gender biases on daily a basis.

Ellen Malfliet, Marketing & Communications Officer, Unifly: Find the perfect company for you where you are challenged and encouraged to be the best you can be, regardless of your gender.

Béatrice Pesquet Popescu, Director of Research & Innovation in the ATM BL, Thales: We need to act very early in the education system to encourage girls towards technical and scientific careers, in order to ensure a genderbalanced pool of candidates.
Mariagrazia La Piscopia, Head of Strategy, Technical and Operations, SESAR Deployment Manager: We need to speak out in order to dispel stereotypes that there are certain jobs that women cannot do – we need to instil in young girls a spirit of perseverance and self-belief.

Francis Richards, ATM Manager in easyJet and Chair of the General Meeting of Members & Civil Airspace User Liaison, SESAR Deployment Manager: It is essential to make careers in aviation more attractive to young women, and to ensure equal pay and opportunities across the industry.