Inmarsat, the world's leading provider of global mobile satellite communications, has signed a major contract with the European Space Agency (ESA) to develop satellite communication services that enable 4D trajectory air traffic management in European airspace from 2020.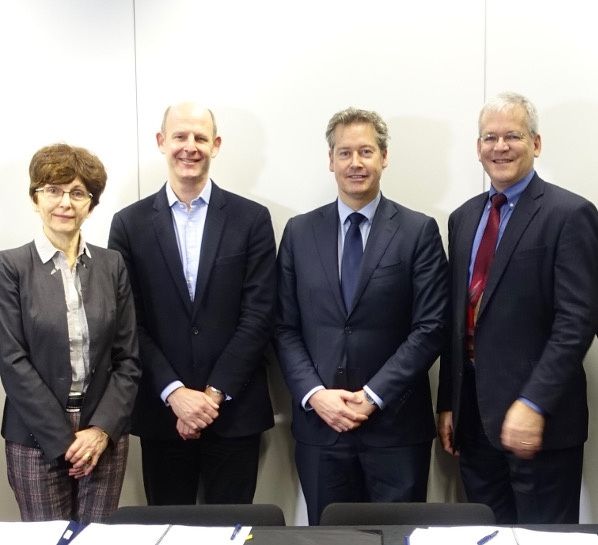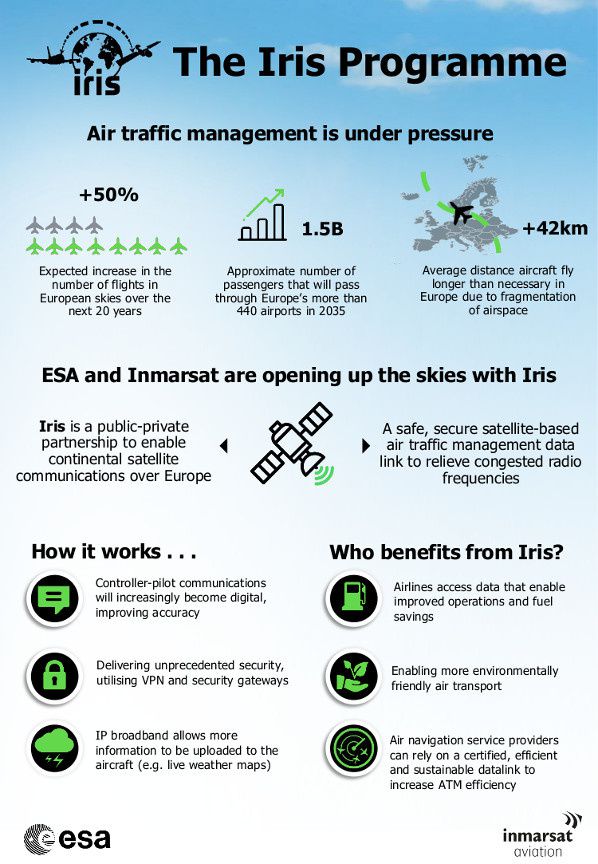 Inmarsat and European Space Agency (ESA) to modernise air traffic management over Europe
Iris programme to support SESAR masterplan to alleviate airspace congestion, reduce flight times and delays, and enhance safety and security
The Iris programme supports the Single European Skies ATM Research (SESAR) masterplan for next-generation air traffic management, which offers a strategic perspective of the critical developments that are required to deliver a high-performing aviation management system for Europe.
Iris is intended to provide secure and high bandwidth cockpit communications that are essential to accomplish SESAR's objectives to optimise airspace, enhance safety and cybersecurity, and reduce flight times, delays and CO2 emissions. Powered by Inmarsat's new SB-S platform, which is already being deployed by airlines, Iris's enhanced IP-based capabilities will relieve pressure on currently crowded VHF radio links, which are near capacity.
Iris will enable the SESAR key concept of initial '4D' trajectories, pinpointing an aircraft in four dimensions: latitude, longitude, altitude and time. This will enable precise tracking of flights and more efficient management of traffic through Trajectory-based Operations (TBO). TBO allows pilots and controllers to calculate the shortest available routes, cruise at optimum altitudes, and use continuous climb and descent paths, saving fuel and lessening the environmental impact of air travel.
Pilot-controller communications will move from voice communications to data link (text messages), increasing both operational safety and efficiency. Iris will also protect aircraft communications from cyber threats with security gateways. These gateways would provide a VPN barrier between the ground and each aircraft, assuring mutual authentication and integrity of data exchange. They will securely connect flight management systems on board the aircraft to the corresponding systems used by air traffic controllers on the ground.
The contract between Inmarsat and ESA marks a key phase of the Iris programme, following five years of development culminating in successful test flights. The two organisations will now work with prime partners Thales Alenia Space and CGI, in addition to a consortium of leading aviation and space companies, to finalise the technology before commercial rollout commences in Europe from 2020.
The programme will also demonstrate how satellite data link will evolve to become a primary means of communications for air traffic control.
Rupert Pearce, CEO of Inmarsat, said: "This is a strategically important project for us and our selection by ESA as the prime contractor underlines Inmarsat's leadership and expertise in safety and operational communications for the aviation market.
"Iris is also fundamental to the future of European aviation and the economic growth of Europe. IATA forecasts that European passenger numbers to grow to 1.5 billion by 2036, but already Europe's aviation industry is under intense pressure due to limited airspace capacity, which results in several billions of dollars of unnecessary cost to airspace users each year. The advanced capabilities of Iris will mark a step change, helping to address the limitations of today's legacy protocols and paving the way for more efficient, cost effective air traffic management."
Magali Vaissiere, ESA's Director of Telecommunications and Integrated Applications, said: "It is hard to overstate the impact this new application of satellite technology will have on modern air travel. We have been working on the Iris programme with Inmarsat and our other partners since 2012, and are happy to now be able to implement the result of this extensive research and development to improve both the European economy and the lives of European citizens in this very tangible way."