Ryanair, Europe's favourite airline, celebrated passing 100,000 bookings by Erasmus Student Network members on its exclusive dedicated platform.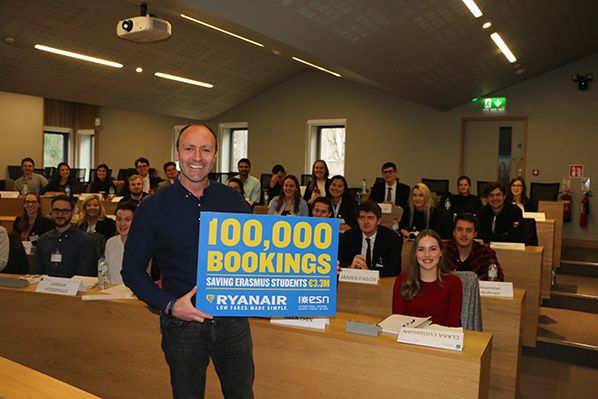 RYANAIR CELEBRATES 100,000 ERASMUS STUDENT NETWORK BOOKINGS
ERASMUS STUDENTS SAVE OVER €3.3M SO FAR WTH RYANAIR
Delivered as part of Ryanair's "Always Getting Better" programme, this partnership offers Erasmus students a dedicated ESN booking platform where they can avail of 15% flight discounts on the Ryanair.com website, and a free checked-in bag with every flight booked, saving ESN members an average of €33 per flight.
Since launching in August 2017, over 100,000 ESN students have now saved over €3.3m with students from Milan, Madrid and Porto making the most bookings, and Germany, Portugal, Italy and Poland among the most popular destinations.
Ryanair's Chief Marketing Officer Kenny Jacobs said:
"We are pleased to have passed 100,000 bookings on our Erasmus Student Network platform, which offers university students across Europe a range of exclusive flight offers, free bags and tailored discounts to suit their budget.
These 100,000 students have saved over €3.3m with Ryanair so far, and we hope many more ESN students will avail of these fantastic discounts over the coming months and years. Any Erasmus student with a valid ESN card can sign up via the "MyRyanair" registration service and save even more while they travel on Europe's biggest airline with the widest route network and the lowest fares."
President of Erasmus Student Network, João Pinto said:
"Erasmus students have benefited immensely from this partnership - proof of it are the 100,000 bookings generated since the platform was launched 6 months ago.
Our cooperation with Ryanair has also helped the Erasmus Student Network to enhance the importance of travelling as a way to propitiate knowledge, intercultural understanding and self-development among the Erasmus Generation and beyond."
For more information visit Erasmus Student Network