The Toulouse platform handled 1.1 million more passengers than in 2016, a record increase making it the number 3 regional airport. 2018 is looking just as promising, with the arrival of facilities that will offer passengers an entirely new experience.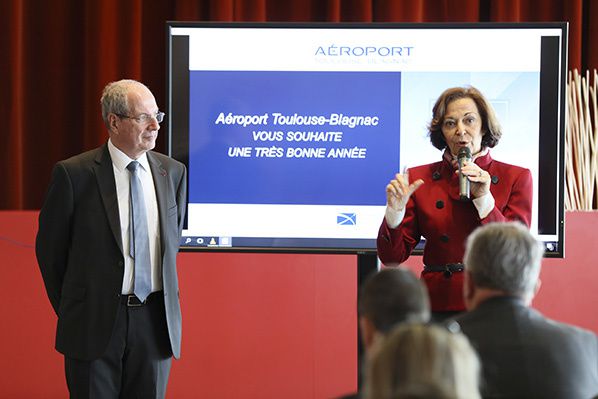 Toulouse Blagnac Airport is ready to take-off internationally
2017: a record year
9.2 million passengers (+14.6 %) and 1.1 million more passengers than in 2016. 2017 was a record year for Toulouse-Blagnac airport in many ways.
This significant growth confirms the development strategy adopted by ATB, because it was European low-cost traffic which stimulated this upwards trend, driven by the EasyJet, Ryanair and Volotea airlines. On the platform, the low-cost share grew once again in 2017, rising from 32.2% to 41% of the total traffic.
The traffic growth, combined with an increase in Airbus activities, is part of a controlled progression in aircraft movements: in 2017, their number was identical to that of 2000, when there were "only" 5.3 million passengers.
"This growing use of the airport means that we had to adapt our infrastructure, to offer the services an international clientele is entitled to expect. This is the reason for the building work started in 2017, which will give Toulouse an airport on a par with the best international standards," explained Anne-Marie Idrac, President of the ATB supervisory board.
"A single area for security checks, incorporating the latest technologies, a more attractive range of shops and catering outlets within a vast commercial space, a boarding pier dedicated to low-cost and regional airlines, a 4-star hotel connected to the air terminal: this is what our airport will be offering its passengers in 2018," stated Jean-Michel Vernhes, Chairman of the Board of ATB.
However, before being able to take full advantage of these facilities, a degree of patience will be needed. The first facilities will be available in April, while full deployment will come at the end of the year. The passenger circuit will therefore still be affected by the building work in 2018, but the airport teams are fully mobilised to minimise their impact on passengers.
Once available, the keenly awaited and much needed new range of services will fuel the airport's international ambitions.
Because in Toulouse, air traffic is changing. In 2000, international flights accounted for 28% of traffic, while in 2017, that figure had risen to 50%. The region's leading airport, which is the gateway to the whole world, is also the main point of entry for the constantly rising number of foreign tourists.
New customers, new requirements and expectations, new services. In 2018, Toulouse-Blagnac Airport will invite its passengers to embark on an all-new airport experience