Flybe, Europe's largest regional airline, is reporting increased demand for its domestic regional routes for the period between 21st December 2017 and 5th January 2018, with bookings up 11% year-on-year.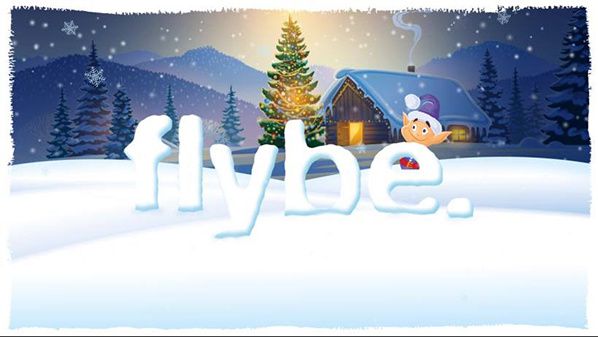 FLYBE REPORTS INCREASED DOMESTIC DEMAND FOR UPCOMING FESTIVE JETAWAY
Flybe's Top Five most popular festive routes
Routes posting the highest increase in bookings over the same period last year include Manchester and Leeds Bradford to Newquay: and Exeter to Edinburgh and London City. Flybe's Top Five most popular festive routes are as follows:
- Edinburgh – Southampton
- Aberdeen – Manchester
- Birmingham – Edinburgh
- Glasgow – Southampton
-London Gatwick - Newquay
The airline concludes that travellers are clearly deciding to take to the skies to rise above the travel chaos on the ground that has been forecast across the festive season.
Rail companies gave early notice to travellers to inform them that many lines would be shut down and services to and from many mainline London stations, even if operating, will be severely disrupted. This is coupled with widely reported consumer dissatisfaction around punctuality issues and ticket price hikes.
And those travelling by road will be faced with the usual lengthy delays due to the sheer volume of vehicles and delays caused by ongoing roadworks.
With 5,892 flights across 135 routes over the Christmas and New Year holidays, and over a third of these offering more than two flights a day, Flybe will be providing a comprehensive service throughout the entire festive period. This includes the addition of eight seasonal routes, connecting UK passengers with popular European winter getaways.
Flybe's Interim Chief Commercial Officer, Ronnie Matheson comments: "The festive season is a time when those travelling to be with friends and family need to have confidence in their chosen arrangements. While there are often adverse weather conditions to overcome in this period however we travel, it is good to see that many people are choosing to fly to avoid road and rail chaos and take advantage of some winter sun. We look forward to welcoming all our passengers on board at this special time of the year."
FLYBE'S EIGHT ADDITIONAL FESTIVE SEASON ROUTES:
Southampton to:
- Bordeaux Eight departures between 15.12.17 and 01.01.18
- La Rochelle Six departures between 21.12.17 and 02.01.18
-Limoges Eight departures between 16.12.17 and 01.01.18
- Rennes 11 departures between 16.12.17 and 01.01.18
Birmingham to:
- Nantes 16 departures between 15.12.17 and 03.01.18
- Newquay 10 departures between 22.12.17 and 01.01.18
Manchester to:
- Nantes 15 departures between 16.12.17 and 02.01.18
- Rennes 8 departures between 18.12.17 and 01.01.18
For full details of Flybe's schedule, check out www.flybe.com