Two years after the success of its first edition, Toulouse Onco Week (TOW) returns from February 3 to 7, 2018, in Toulouse (France). The TOW, organised by Toulouse University Cancer Institute around the World Cancer Day, is a unique event that brings together all the players in the fight against cancer, aiming to promote the latest innovations in oncology.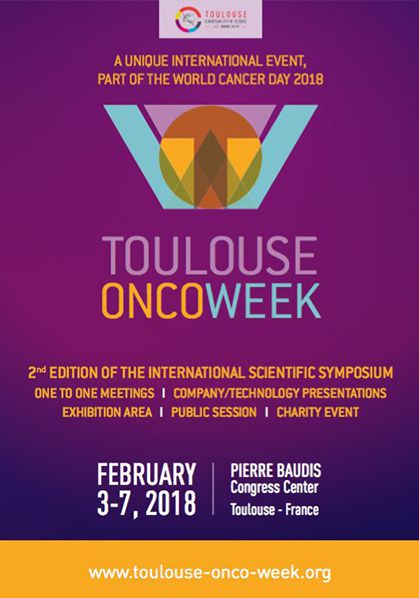 INTERNATIONAL CANCER CONGRESS 2nd EDITION OF THE "TOULOUSE ONCO WEEK"
TOULOUSE ONCO WEEK : UNITE TO PROGRESS
Unique event in Europe, the TOW brings together all the driving forces in the fight against cancer : scientists, clinicians, caregivers, industry players, biotechnology companies, pharmaceutical groups, public authorities and charities.
The event, built around the World Cancer day on February 4th 2018, is at the image of Toulouse's Oncopole, a unique cluster of competences sharing one same objective: Beat cancer together.
In 2016, the first edition of the TOW which federated more than 1,000 participants was the forum for announcements carrying hope messages and saw strong engagement from the international medical and scientific community.
Encouraged by those positive outcomes, the members of the Toulouse University Cancer Institute decided to organise the 2018 edition of the TOW.
An Organising Committee has been formed with Toulouse University Hospital, Claudius Regaud Institute (ICR), Toulouse Cancer Research Center (CRCT), Toulouse Cancer Health Foundation, the "Ligue Contre le Cancer", "Cancer Bio-Sante" Competitiveness Cluster (CBS Cluster), Toulouse Métropole and Toulouse Convention Bureau.
- More than 1,000 participants
- 450 clinicians and international researchers
- 140 business to business meetings
- Professor Thomas Helleday 's Announcement on the introduction in France of Olaparib drug to treat prostate cancer.
- A presentation on major advances in the search of therapeutic solutions for pancreatic cancer treatment by Dr. Pierre Cordelier.
THE EVENT WILL BE STRUCTURED AROUND 6 KEY TOUCHPOINTS:
- An international scientific symposium made of 6 sessions;
- Industry and academic presentations;
- Business to Business meetings;
- Content session open to the general public;
- A charity concert;
- A charity run.
A SCIENTIFIC SYMPOSIUM WITH WORLD FAMOUS EXPERTS
Genetic instability, immunotherapy, therapeutic innovations ...
The TOW offers international actors the opportunity to share on key themes in the fight against cancer. They will be joined by 21 internationally renowned experts (researchers and clinicians) including Klaus Pantel (Director of the Hamburg Institute of Tumor Biology Hamburg), Steven Jackson (Cambridge University), Gillies McKenna (Department Director of oncology research at Oxford University), Richard Marais (Director of Cancer Research UK Manchester Institute), Maarten van Lohuizen, Epigenetics Specialist at the Dutch Cancer Institute, and Jan Hoeijmakers, a pioneer in the field of DNA repair (Erasmus University Rotterdam)
The six scientific sessions will closely touch on current innovations:
- Metastasis and microenvironment – Metabolism
- Genetic instability and DNA damage response
- Epigenetics - Non-coding genome and cancer
- Immunotherapy and cancer, from the bench to the patient's bed
- New therapeutic strategies
- Combined therapies
- Radiotherapy - Proton Therapy
- Clinical research on melanoma
The 24 live presentations and a further hundred presentations displayed, all selected as part of the call for papers process, will aim to offer a global vision of scientific progress that will help heal better tomorrow. Call for paper entries will be judged by a scientific committee composed of 15 experts.
Presentations will take place from February 5th to the 7th, 2018, in front of all participants at Pierre Baudis Congress Center.
THE TOW, AN OPPORTUNITY FOR BUSINESSES AND ACADEMICS TO PRESENT THEIR WORK TO INVESTORS
Manufacturers, start-ups and laboratories will have the chance to present their innovations to the participants of the TOW 2018. The objective is to promote their technologies and discoveries in the fight against cancer, with the opportunity to find investors.
The presentation proposals will be reviewed by the Cancer-Bio-Health Competitiveness Cluster, which contributes to the development of innovative technologies and products for the fight against cancer, and support innovation in bio-health.
PROMOTING NEW COLLABORATIONS AND CREATING NEW BUSINESS OPPORTUNITIES
All registrants will be able to participate in business meetings. In parallel to their presentations, participants from the academic and private sector will have the special opportunity to meet technological and commercial partners of tomorrow. In 2016 no less than 140 appointments took place, enabling new collaborations.
Upon registration, TOW participants will be asked to complete their profile and confirm availability on the online form. The online platform will be live in January 2018.
OTHER KEY MISSIONS OF THE TOW : PUBLIC INFORMATION AND FUNDRAISING
The TOW not only is a scientific or economic event. It aims to reach everyone and to be a time of knowledge sharing with the general public, but also to raise funds for research. In addition to scientific presentations and professional meetings, charity events and conferences-debates will be held for the general public.
- General Public session : conferences-debates around key themes to understand "where we are at with cancer in 2018"
"The chance part in cancer": the topic was addressed once more in the journal Science in March 2017 following a new study of clinicians and biostatisticians from Johns Hopkins University in Baltimore. According to them, most cancers would be mainly due to "errors" during cell division and not just to environmental or hereditary factors. This study, largely taken up by scientists and the media challenges the general public and divides the research community.
The first part of the TOW's General public session will be dedicated to this issue and led by Professor Gilles Favre, Director of Toulouse Cancer Research Centre (CRCT) and Head of the Research College of the Public interest grouping Toulouse University Institute of Cancer.
The discussion will continue, with among others, two sessions : "Active Cancer Prevention" and "Immunotherapy, a new hope in cancer treatments".
This event, free and open to all, will take place on Thursday February 6th 2018, from 6pm to 8pm, at Pierre Baudis Conference Center.
- The TOW will begin in music on Saturday 3rd February 2018, at 6pm with a concert at Toulouse Hotel-Dieu Saint-Jacques-Hospital, administrative headquarters of Toulouse University Hospital, classified World Heritage by the UNESCO.
- A sports event organised by the "Ligue contre le Cancer 31" on Sunday 4th February will reinforce the TOW charitable initiatives. The "Ligue contre le cancer 31" charity is always eager to federate and build awareness towards the many and will count with the help of a group of students from Toulouse Business School to achieve those goals.