The Qatar Civil Aviation Authority (QCAA) and SESAR Joint Undertaking (SESAR JU) have signed a new cooperation agreeing to work towards more efficient air traffic management (ATM) and aviation between both regions and worldwide.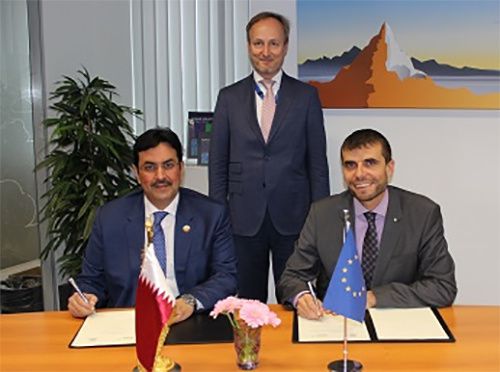 Qatar and SESAR to cooperate on global aviation interoperability
Memorandum of Cooperation (MoC)
The QCAA and the SESAR JU signed a Memorandum of Cooperation (MoC) to enhance collaboration between their respective air traffic management (ATM) modernisation initiatives in order to contribute to the development and harmonisation of global aviation. The scope of the collaboration between the parties includes the sharing of information, knowledge and expertise, and cooperating on activities related to ATM modernisation.
The agreement was signed by H.E. Abdulla Nasser Turki Al Subaey, Chairman of QCAA and Florian Guillermet, Executive Director of the SESAR Joint Undertaking.
H.E. Abdulla Nasser Turki Al Subaey said: "The Qatar national aviation sector is growing very fast and this growth has an impact on the Qatar air traffic services and the use of the Qatar airspace. For the State of Qatar and for the air traffic passing through the Qatar airspace the cooperation with SESAR Joint Undertaking is important. This cooperation will contribute to create more interoperability between air traffic management systems, it will be beneficial for the airlines and for the passengers. The QCAA is very honoured with this Memorandum of Cooperation and we start in 2018 immediately with the implementation".

Florian Guillermet said: "Aviation is a global business requiring interoperable systems and operations in order to allow for the seamless and efficient flow of traffic between regions. Through this agreement, the aim is to work together to ensure that global aviation goes from strength to strength becoming smarter, cleaner and more affordable for passengers and businesses worldwide."
The agreement provides the framework for the organisation of flight trials involving Qatar and European service providers, airlines and airports on key SESAR concepts and solutions, addressing among other areas: airport operations management, system-wide information management and data sharing, and wake vortex. These activities will aim to demonstrate the performance and operational benefits offered by SESAR and its technologies, including environmental benefits.
Activities will also be undertaken to compare the European ATM Master Plan and the equivalent Qatar or regional strategic planning and performance assessment activities and to identify potential gaps, synergies and performance priorities including, but not limited to, drone operations and cyber security. These activities will additionally ensure support to and alignment with ICAO's Global Air Navigation Plan (GANP)/Aviation System Block Upgrade (ASBU) modules.