Air Astana has become the first airline in the world to offer Inmarsat's GX Aviation to passengers onboard a widebody aircraft, after the service went live onboard the airline's initial Boeing 767. Air Astana selected the next generation inflight broadband solution through Inmarsat partner Rockwell Collins in a deal announced last year.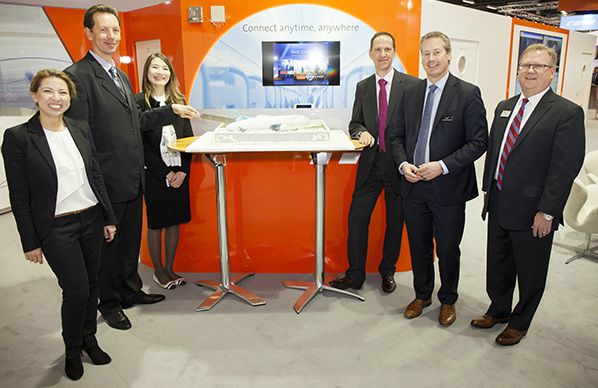 Air Astana now offering GX Aviation to passengers through Inmarsat partner Rockwell Collins
Next generation inflight broadband solution installed on airline's Boeing 767; Air Astana operating the world's first widebody aircraft with GX Aviation in commercial use
GX Aviation, the world's first inflight broadband solution with reliable, seamless high-speed global coverage provided through a single operator, has already been installed on the first Air Astana Boeing 767. The service allows passengers to browse the internet, stream videos, check social media and more, with advanced connectivity on par with broadband on the ground.
Air Astana passengers will be able to choose from three connectivity packages: The Light option will cover 15Mb, the Business option will cover 50Mb, and the Super option will cover 100Mb. All services are estimated to operate at an average speed of between 2-5Mbps.
GX Aviation will eventually be available on all three of Air Astana's Boeing 767s, with system installation on its second aircraft planned be completed in October 2017.
Frederik van Essen, Inmarsat Aviation Senior Vice President of Strategy and Business Development, said: "GX Aviation has already entered commercial service on narrowbody aircraft flights in Europe and the response from both passengers and cabin crew has been outstanding. As the only solution in the market today that has been specifically designed for inflight broadband, it offers unprecedented speed, reliability and consistency. Offering GX Aviation on widebody aircraft was our next major milestone and we are delighted to have achieved that with Air Astana and our partner Rockwell Collins."
About Inmarsat
Inmarsat plc is the leading provider of global mobile satellite communications services. Since 1979, Inmarsat has been providing reliable voice and high-speed data communications to governments, enterprises and other organizations, with a range of services that can be used on land, at sea or in the air. Inmarsat operates around the world, with a presence in the major ports and centres of commerce on every continent. Inmarsat is listed on the London Stock Exchange (ISAT.L).