Cpl Peter Walker's Illustrated Diary of his RAF Service in India & Burma 1942 – 1946
ABOUT THE BOOK
This is a poignant, personal narrative of a young man sent over 5,000 miles away from home to serve his country for four years, not as the qualified pilot he was, but as a member of the RAF's ground crew due to his colour-blindness. However, this meant Peter was able to take over 500 fascinating photos of 'kites' (planes), colleagues and camp conditions. He also wrote detailed diaries and hundreds of letters home to his family, friends and girlfriend, Peggy, with whom he conducted a long-distance romance.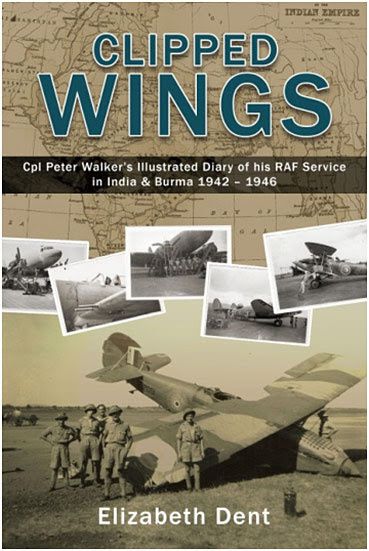 This unique archive has been locked away in a tin trunk for 70 years. Elizabeth (Peter's eldest child) managed to stop her mother throwing this trunk into a skip and has since spent over six years compiling and researching the memorabilia. Thus, the Illustrated Diary started by her father over 75 years ago has now been completed and it is dedicated by the author to the bravery and sacrifices made by those who fought in the so-called 'Forgotten War of India & Burma'.
Lavishly illustrated by Peter's 'snaps', this is a detailed account of how RAF life was for members of the invaluable ground crew who kept the warbirds in the air. Not only depicting the harsh living conditions in tents and bashas and the subsequent ingenuity these men had to show, but also describing their pastimes such as football and sea-bathing. Many RAF colleagues are named in the photos but alas many are not – perhaps some will be remembered by this book's publication.
Travelling in the cramped, claustrophobic hold of a troopship through the dangerous submarine-infested waters around South Africa, Peter was first based at No. 37 Staging Post in Central India. Here, as a Leading Aircraftman, he helped to service planes varying from Wapitis, Lysanders & Hawker Harts to Lockheed Hudsons, Curtis Mohawks and Dakotas. Hitching lifts on planes, he was able to spend his leave throughout India and many evocative photos capture a long-lost India during the last days of the Raj.
Peter was then posted to No. 31 Squadron in Burma where the ground crew also flew as cargo handlers and stretcher bearers in their Dakotas, having to land and take off in the most hazardous of conditions on short bush strips hacked out of the Japanese occupied jungles. He even witnessed the surrender of the Japanese in Rangoon before ending his war in Singapore and he then spent several months trying to travel home, finally returning to Blighty in January 1946.
ABOUT THE AUTHOR
Elizabeth Dent (nee Walker) was brought up in the family's Edwardian house in Battlefield Road, St Albans and she attended Hatfield Girls' Grammar School. After living in Toronto and then in Melbourne with her first husband, she returned to England and worked in London as a Secretary/P.A. She was with her father when he died in 1983 aged 65 from rare neuro-endocrine tumours (M.E.N.1) which she has unknowingly inherited from him.
Elizabeth has decided to donate 10% of any profits from the sale of this book to AMEND (www.amend.org.uk), the charity she founded with her elder daughter, and 10% to the NET Patient Foundation (www.netpatientfoundation.org).
After moving to the Yorkshire Dales with her second husband, Robert, she gained a history degree at York and ran a heritage tours company, Dales Trails. She has spent many years researching local history and was co-author of several books. Her particular interest is the monastic landscape of nearby Fountains Abbey and she has taken part in several digs in Nidderdale. Elizabeth has organised archaeological tours to places such as Pompeii, Rhodes, Orkney and Shetland, as well as being a historical guide/lecturer for travel companies. She has three children and two grandchildren.
This book is produced by Elizabeth Dent Publishing in conjunction with WRITERSWORLD, and is produced entirely in the UK. It is available to order from most bookshops in the United Kingdom, and is also globally available via UK-based Internet book retailers.