George Bye to be Featured Speaker at International UAS Conference
George Bye a keynote speaker
George Bye, CEO and Founder of Bye Aerospace, Inc., is a keynote speaker on June 14 at the 2017 International Conference on Unmanned Aircraft Systems (UAS) in Miami, Florida.
Bye will present "The Benefits of Solar-Electric Propulsion for UAS" at 1:45 p.m. local time in Salon E of the Miami Marriott Biscayne Bay. He is the creative innovator behind Bye Aerospace, which he founded in 2007, and has two decades of experience as an aerospace entrepreneur and executive. Among his designs, which utilize advanced aerodynamics, composite structures and alternative propulsion systems, are two new solar-electric hybrid unmanned aerial vehicle (UAV) concepts.
Earlier this year, Bye Aerospace announced an important engineering, development and production collaboration with SolAero Technologies Corp. to put SolAero's solar cell technology on Bye's solar-electric UAV called "StratoAirNet." The StratoAirNet family of UAVs is intended to provide persistent intelligence, surveillance and reconnaissance (ISR) to support commercial and government security requirements. The initial medium-altitude StratoAirNet 15 proof of concept prototype is nearing completion and undergoing final assembly. SolAero cells are being affixed to the upper wing surface as aircraft systems are being completed in advance of power-on and flight tests.
StratoAirNet was recently shown to be valuable in extending the reach of theater of battle early warning and detection capabilities while providing a potential for significant savings in acquisition, operations and maintenance costs. Potential commercial mission applications for StratoAirNet include communications relay, internet, mapping, search and rescue, firefighting command and control, anti-poaching monitoring, damage assessment, severe weather tracking, agriculture monitoring ("precision ag"), mineral source surveying, spill detection and infrastructure quality assessment.
The 2017 International Conference on Unmanned Aircraft Systems takes place June 13-16 at the Miami Marriott Biscayne Bay. The conference is co-sponsored by University of Denver's Daniel Felix Ritchie School of Engineering & Computer Science, a collaborative partner of Bye Aerospace. For more information about the conference, go to http://www.uasconferences.com/index.php.
About Bye Aerospace
Bye Aerospace is an innovator of sophisticated aerospace technology. The company, which was founded in 2007, is headquartered near Denver and brings advances in energy and design efficiencies to aerospace applications.
For more information, go to www.byeaerospace.com
About George Bye
George Bye, an aviation pioneer, is the CEO and Founder of Bye Aerospace. Among his aircraft designs are a small solar-electric hybrid UAV, electric aircraft and technologies and the new, solar-electric hybrid UAV program, StratoAirNet and Silent Guardian. Previously, he launched, developed and led the Company designing the Javelin, a transonic two-seat jet for military and civil utility. Bye has a B.S. in Engineering from the University of Washington, is an ATP rated pilot and has logged over 4,000 flying hours. He was a USAF instructor pilot in the supersonic T-38 for Euro-NATO Joint Jet Pilot Training, C-141B Instructor Aircraft Commander and is a veteran of Desert Storm.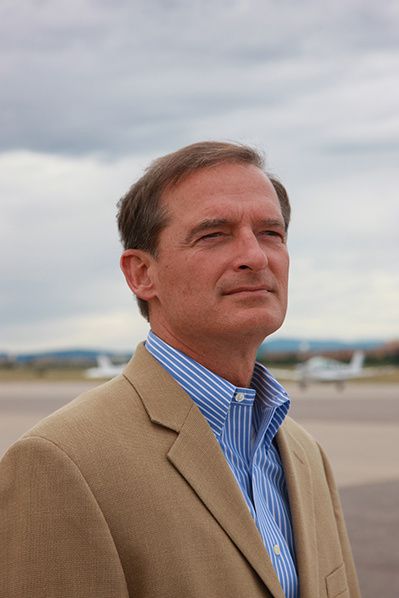 For more information go to www.GeorgeBye.com.