Boca Grove Golf and Tennis Club, a premier country club in Boca Raton, Fla., has added two new pickleball courts to our tennis facilities. The two new courts join the already existing red-clay stadium court and 12 Har-Tru clay tennis courts. Pickleball combines elements of tennis, badminton and ping-pong, and is easily played by all ages.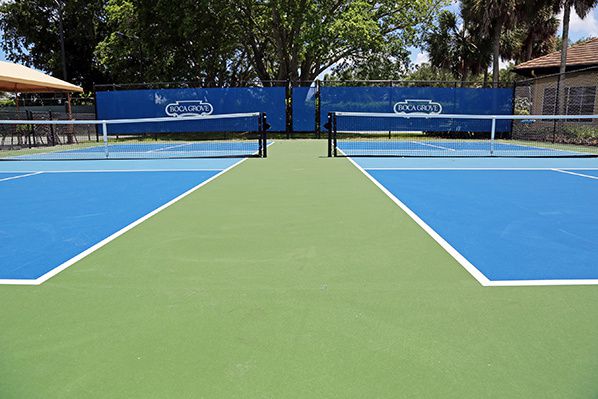 Copyright New Pickleball Courts at Boca Grove.
Boca Grove Adds Pickleball Courts
Boca Grove Golf and Tennis Club
After Boca Grove hosted a pickleball demonstration event last year, the new sports addiction caught on quickly at the Club and a need for official courts became a priority. Both current and former tennis enthusiasts are finding pickleball's smaller courts and similar style of play very appealing and younger players especially are enjoying the change of pace. Pickleball can be played as singles or doubles and is played with a paddle and plastic balls with holes.
"The new pickleball courts are attracting members we don't normally see at the Tennis Center, as they are taking an interest in the new sport available at Boca Grove. We have also found that the game of pickleball is infusing a new spirit of camaraderie across all groups with senior and younger members joining forces and playing together. The courts have also added a distinct advantage to our junior tennis lessons. The smaller courts are allowing the younger players to grow confidence and knowledge of the game of tennis on courts relative to their size," said Richard Centerbar, Director of Tennis at Boca Grove.
Boca Grove's tennis courts have hosted numerous tennis professionals, including Andy Murray, Ivan Lendl, Grigor Dimitrov, and Kevin Anderson.
About Boca Grove:
Boca Grove is a boutique golf and tennis club located in the heart of beautiful Boca Raton, Florida. With approximately 444 member families, Boca Grove exhibits style and grace afforded only to the most elite private clubs in South Florida.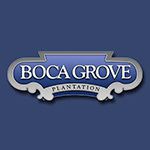 For more information on Boca Grove Golf and Tennis Club, please visit www.bocagrove.org or call (561)487-5300.