Global leaders of the air traffic management (ATM) industry met in Copenhagen at the CANSO Global ATM Summit and 21st Annual General Meeting 12 - 15 June to discuss key challenges and opportunities for the industry.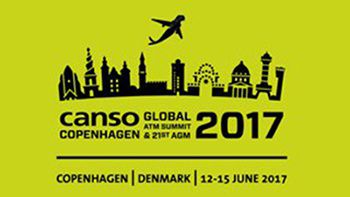 FLYING HIGH, ONWARDS AND UPWARDS:
The CANSO Global ATM Summit and 21st AGM
An international event for the key players in ATM, the CANSO Global ATM Summit 2017 explored the rapidly changing nature of the ATM industry and how CANSO and its Members should prepare for and adapt to that future.
The theme of the Global ATM Summit was 'Flying high: onwards and upwards', highlighting how the ATM industry is taking significant steps to ensure that it is efficient and effective, and embracing new developments in airspace use, in particular commercial space users.
The scene was set by opening keynote speeches from Rickard Gustafson, President and CEO of SAS, and Alexandre de Juniac, Director General and CEO of the International Air Transport Association (IATA). The Summit then explored new operating models, partnerships and new players that are transforming the industry and shaping a new future for ATM.
Roberta Neri, CEO of ENAV, the air navigation service provider (ANSP) of Italy, described the lessons and process of privatisation and how ENAV became the first ANSP to complete an Initial Public Offering (IPO) of ordinary shares on the stock market.
Representatives from FAA, Virgin Galactic and Sierra Nevada Corporation showcased the latest developments in commercial space transportation, and panellists from FAA-ATO, DSNA, Airports Authority of India, EUROCONTROL and ENAC explored how ATM regulations and operations are already taking steps to accommodate and encourage this rapidly growing sector of airspace users.
Speaking from the event, Jeff Poole, Director General, CANSO, remarked "The ATM industry is going through important changes at the moment, and now is a critical time for the whole community to come together and plan for the future.
The CANSO Global ATM Summit 2017 highlighted some of the key areas we need to consider – from how we operate and how that works on a global scale, to adapting and developing airspace for the benefit of all users. CANSO and its Members will continue to work closely with industry partners, regulators and innovators to develop and maximise the potential of the ATM industry and ensure that we continue to develop onwards and upwards."
At the Annual General Meeting, Rudy Kellar (Executive Vice President Service Delivery, NAV CANADA) and Professor Klaus-Dieter Scheurle (Chairman and CEO, DFS Deutsche Flugsicherung GmbH) were elected as Members at large on the CANSO Executive Committee. Mark Cooper (Partner – Aviation Technology, Deloitte) and Don Thoma (CEO, Aireon) were elected as Associate Member representatives on the CANSO Executive Committee. Details of the new Executive Committee can be found at canso.org/executive-committee
Teri Bristol (COO, FAA Air Traffic Organization) was elected as Chair of the CANSO Executive Committee and Thabani Mthiyane (CEO, ATNS) was elected as Vice Chair.
The CANSO Global ATM Summit and 21st Annual General Meeting was hosted by Naviair in Copenhagen, Denmark, on 12-15 June and attended by 243 delegates from around the world. The next CANSO Global ATM Summit and 22nd AGM will take place in Bangkok, Thailand, 10-13 June 2018, hosted by Aeronautical Radio of Thailand Limited (AEROTHAI).
About CANSO
CANSO – the Civil Air Navigation Services Organisation – is the global voice of air traffic management (ATM) worldwide. CANSO Members support over 85% of world air traffic. Members share information and develop new policies, with the ultimate aim of improving air navigation services (ANS) on the ground and in the air. CANSO represents its Members' views to a wide range of aviation stakeholders, including the International Civil Aviation Organization, where it has official Observer status. CANSO has an extensive network of Associate Members drawn from across the aviation industry.