Flybe, Europe's largest regional airline, started operating flights from France to its new leisure hub at Southampton this past weekend (Saturday 27th May 2017). This is a new feature that, operating through to 3rd September, offers 69 connections from 11 French airports to 8 UK destinations, opening up many brand new destinations, all via a seamless connection in Southampton. It is part of the airline's 2017 Summer schedule from France that features 45 routes offering a total choice of up to 278 flights a week to16 UK destinations.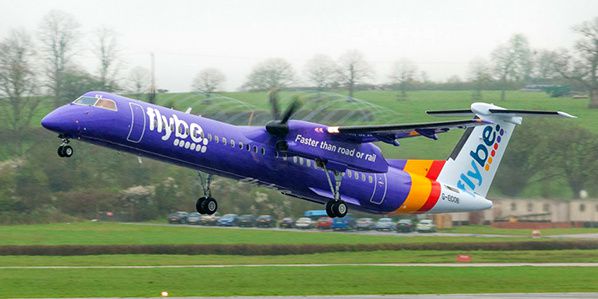 Copyright Flybe
FLYBE'S NEW WEEKEND LEISURE HUB EXPANDS 2017 SUMMER SCHEDULE FROM FRANCE
Leading regional airline's schedule includes extra UK destinations via new weekend leisure hub at Southampton
Seats are available for booking at www.flybe.com from €39 one way including taxes and charges for travel through to 28th October 2017.
Flybe's weekend leisure hub
Flybe's weekend leisure hub offers flights via Southampton to some hugely attractive UK destinations with attractions for visitors including outstanding shopping districts, world-class tourist attractions and stunning scenic beauty. All are just a few short hours away and customers can reach their final destination with the minimum of fuss and with just one initial check-in at a variety of French airports.
Flybe's schedule is tailored to ensure that the connecting time at Southampton is kept to an absolute minimum. Southampton Airport is set up to give passengers a 'breeze through' experience en-route to their destination airport and prides itself on being 'fast, easy and friendly'.
Southampton Summer Hub flights
The Southampton Summer Hub flights depart from Avignon, Bergerac Dordogne, Biarritz, Bordeaux, Brest, La Rochelle, Limoges, Nantes, Perpignan-Rivesaltes, Rennes and Toulon-Hyères with flights to destinations in the UK including Aberdeen, Belfast, East Midlands, Edinburgh, Exeter, Glasgow, Manchester and Newcastle.
Eleven codeshare partners
Flybe also has eleven codeshare partners allowing regional customers to connect to long-haul destinations via Flybe's 'One Stop to the World' proposition and also serves to boosting local economies by encouraging inbound business and leisure travel.
Evelyne Faure, Flybe Country Manager, France, comments: "We are delighted to be including our new summer hub flights via Southampton as part of our 2017 Summer Schedule. It opens up many brand new destinations to all over the UK from regional France.
"We are committed to connecting people and communities and offering the widest choice of destinations possible with time saving, punctual and affordable travel. We look forward to welcoming many more new passengers on board."
Full details of the Flybe Summer Schedule can be found at www.flybe.com
About Flybe
Flybe, Europe's largest regional airline - 232 routes serving 15 countries from 87 departure points, 38 UK/49 European airports* (all routes on sale Mar'17 – Oct'17);
Operates more UK domestic flights than any other airline (UK CAA Apr'16 – Jan'17);
Rated best UK airline for punctuality and sixth in the world in the global airlines punctuality league table by OAG (Jan '17); named 'Best Short-Haul Airline' at the 2016 Business Travel Awards (Jan '16);
The largest scheduled airline by air traffic movements at Belfast City, Birmingham, Cardiff, Exeter, Glasgow, Isle of Man, Newquay and Southampton airports (UK CAA Jan'17);
Operates fleet of 84 aircraft – 59 Bombardier Q400, 9 Embraer 195, 11 E175 & 5 ATR 72s; Codeshares with BA, Air France, Etihad, Finnair, Aer Lingus, Cathay Pacific, Emirates, Virgin Atlantic, Air India, Air Berlin and Singapore Airlines; 79% coverage of reporting airports (UK CAA Jan '17);
Has its own globally recognised Training Academy in Exeter with flight deck and cabin crew simulator facilities, 26 classrooms and 150-seat conference facility.