Most Instagrammed Tourist Attractions
Study reveals the most Instagrammed locations in the USA and around the world
Disneyland is the most hashtagged spot in the USA, with nearly 3 times the number of mentions than Walt Disney World, the 2nd most popular
South Beach, Miami is the 3rd most popular destination in the USA for Instagram users, followed by the Las Vegas Strip, Times Square and Mardi Gras in New Orleans.
Globally, The Eiffel Tower, the Berlin Wall and Big Ben are among the top ten most hashtagged tourist destinations in the world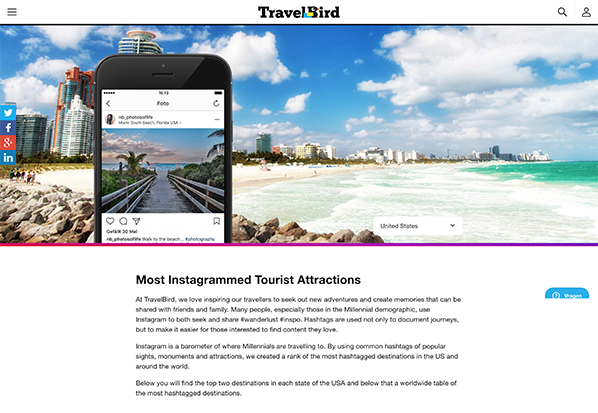 London, United Kingdom
Online travel specialists, TravelBird, have released the Most Instagrammed Tourist Attractions, a study ranking 470 attractions in many countries around the world based on the number of tags on the social media platform. With the image-based application most popular among Millennial users, TravelBird sought to use the information to gain an understanding of how global travel destinations measure up on social media.
The results provide an indepth view of the best travel spots in the United States of America, with two attractions researched in every state. The inclusion of every state ensures lesser known, local gems are represented, as well as popular attractions within the more densely populated states. The same process was repeated in 10 other countries. From these in-depth looks into each country, a master ranking was created, which compares over 400 of the world's most popular tourist destinations on their Instagram presence.
"This study offers a compelling overview of hundreds of destinations that are beloved by Instagram users for their cultural heritage, their stunning natural beauty and their local charm," states Symen Jansma, Founder of TravelBird. "Alongside this, the data also tells a fascinating story about the ways people are travelling in 2017, offering valuable insights for the travel and tourism industry."
To see the full list of Instagrammed Attractions, visit the results page: https://travelbird.nl/the-most-instagrammed-tourist-attractions/
The Most Instagrammed Destinations in The USA
Disneyland, California and Walt Disney World, Florida were the most hashtagged tourist destinations on Instagram. The thriving party scene of Las Vegas Strip and Mardi Gras placed in the top six, whilst sun seekers made South Beach, Waikiki and Myrtle Beach rank high. Lovers of the great outdoors won't be surprised to see that The Grand Canyon, Yosemite National Park and The Rocky Mountains made the top 15 most Instagrammed destinations in the USA.
The top 15 attractions on Instagram in the USA can be seen below: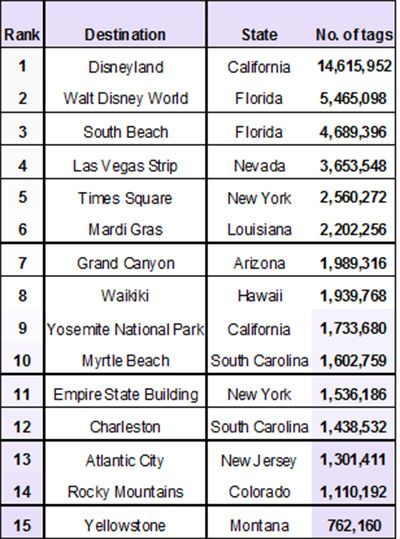 Credit data and graphics ©TravelBird
The Most Instagrammed Global Destinations
The universally recognised Disneyland, California tops the global list, followed by Paris' Eiffel Tower. Globally, Big Ben, London ranked 7th, just ahead of Times Square, New York in 8th position.
The top 15 global attractions can be seen below: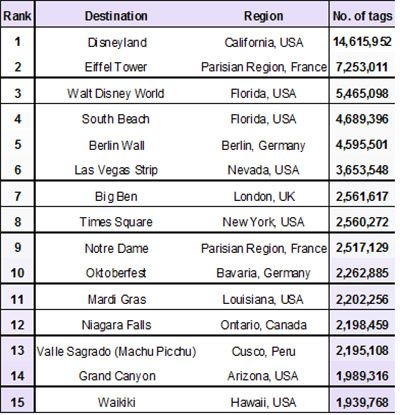 Credit data and graphics ©TravelBird
For all other findings visit the TravelBird results page: https://travelbird.nl/the-most-instagrammed-tourist-attractions/
About TravelBird
TravelBird is an online travel company offering a curated collection of holiday and travel experiences - from short inspirational breaks to international get-aways. TravelBird's passionate local travel advisors work directly with tour operators across the world to offer a selection of travel experiences that invite travellers to discover something new and immerse themselves in different cultures. For more information,

Please visit: https://travelbird.nl