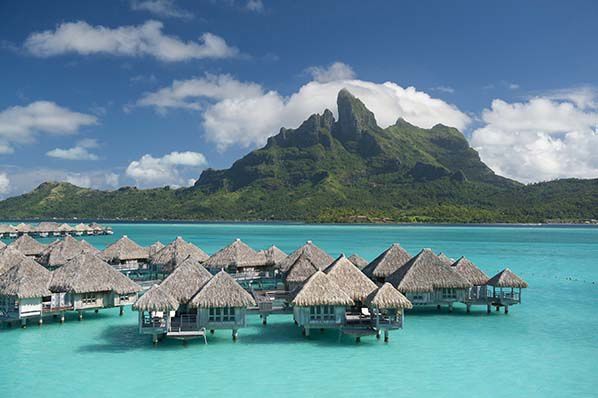 Pleasant Holidays has big deals on a little romance this Valentine's Day, including $600 off package vacations to Tahiti, Bora Bora, Moorea and more in the South Pacific. For the ultimate tropical romance vacation, book an overwater bungalow ... The Hawaii Vacation Experts since 1959 (PRNewsFoto/Pleasant Holidays, LLC) (PRNewsFoto/Pleasant Holidays, LLC) (PRNewsFoto/Pleasant Holidays, LLC)
Pleasant Holidays Offers Big Deals For Valentine's Day Romance
Escape to the most romantic city in the world with Pleasant Holidays
Escape to the most romantic city in the world with Pleasant Holidays' exclusive Paris Vacation Sale, offering package rates from $652 per person including roundtrip nonstop flights from Los Angeles to Paris and four nights' hotel accommodation at Melia Paris Champs-Elysees. In all, you can select from 15 participating hotels located throughout Paris and air-inclusive stays of four or five nights. The Paris Vacation Sale is valid for new package vacations booked by Feb. 13, 2017 for select travel dates Feb. 8 to March 27, 2017, including Valentine's Day and the Presidents' Day holiday weekend.
For the ultimate tropical romance vacation or honeymoon, Pleasant Holidays is offering $600 off per booking on package vacations to Tahiti, Bora Bora, Moorea and more in the South Pacific, including iconic overwater bungalow accommodations. Select from 18 resorts in all sprinkled throughout the most popular islands.
The $600 off deal is valid for new package vacations booked by March 26, 2017 for travel through Dec. 31, 2017 and requires roundtrip airfare and seven nights' accommodation at a participating resort. Tahiti is one of the top honeymoon destinations in the world and Pleasant Holidays is No. 1 in Tahiti vacations worldwide.
Vacation travel experts since 1959, Pleasant Holidays can book everything needed for a memorable romance vacation or honeymoon—flights from departure cities nationwide, hotel, land transfers, exciting activities, travel protection plans and more—in one convenient and affordable package. In addition, you'll enjoy the added peace of mind provided by exceptional customer service that includes in-destination assistance available 24/7.
This February, don't panic; trust the travel experts at Pleasant Holidays. They understand that sometimes a little romance can be a very big deal. For more information or to make a reservation, visit PleasantHolidays.com, call 1-877-744-1622, or consult your travel agent.
Related Links: http://ow.ly/YQWh308A2xR

credit photo The Hawaii Vacation Experts since 1959 (PRNewsFoto/Pleasant Holidays, LLC) (PRNewsFoto/Pleasant Holidays, LLC) (PRNewsFoto/Pleasant Holidays, LLC)
SOURCE Pleasant Holidays, LLC