It is designed to lower cost, enhance efficiency and spur mainstream adoption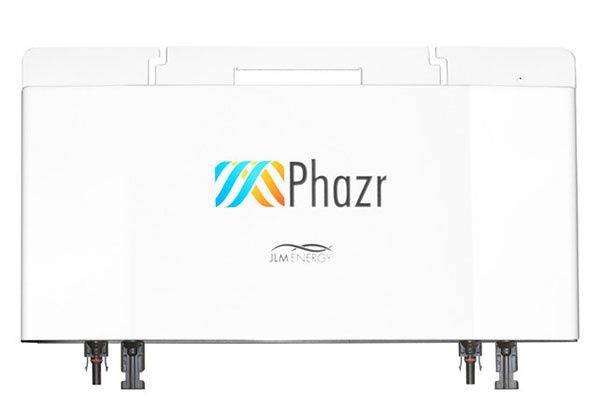 Scalable MicroStorage: Phazr by JLM Energy. A key advantage of MicroStorage is that a single solar panel can concurrently charge a battery and deliver energy to the grid. Designed for utility scale, C&I and residential use, Phazr reduces cost …
JLM Energy launches MicroStorage, a scalable product for applications from large utility scale to small residential
MicroStorage
LM Energy announced today the launch of a cutting edge energy storage product category called MicroStorage. MicroStorage couples a battery pack directly to a corresponding solar panel. It is the first solution that enables the dual supply of power from solar to batteries and the grid simultaneously. The innovative approach creates the most efficient, cost-effective solution available in the market.
A key advantage of MicroStorage is that a single solar panel can concurrently charge a battery and deliver energy to the grid. In the late hours of the day, as solar power diminishes, the system discharges the battery while at the same time delivers remaining solar power directly to the building. The simultaneous nature of electron flow is unique to JLM's patent-pending technology.
Phazr, the first in JLM's MicroStorage family of products, is mounted seamlessly behind the solar panel, making installation simple and virtually cost free. Phazr is designed for large scale solar plus storage applications, and is also perfectly suited for smaller residential and commercial installs.
Phazr's patent-pending technology is included in JLM's energy technology bundle and is operated by Measurz software, which continually observes energy usage patterns and utilizes a variety of strategies to maintain a pre-set budget determined by the customer.
JLM Energy CEO & Founder Farid Dibachi said, "Phazr is an absolute game-changer that will drive the rapid adoption of energy storage. It is designed to lower the total cost of ownership."
Dibachi said, "MicroStorage implements the lessons learned in the solar industry and applies them to the growth of the energy storage industry. Simple installation, no single point of failure, and configurability are all attributes that are needed to help fuel growth."
Phazr is about the size of a small brief case, weighing approximately 15 pounds. In addition to new solar installations, it can be easily retrofitted on existing solar systems and is field replaceable.
Phazr uses lithium iron phosphate batteries that, unlike Lithium-Ion batteries, are chemically, structurally, and thermally safe. Phazr operates at a low voltage (20-40 V) that is safe for installers and consumers, is designed to scale with installation, and has a 20-year warranty. Solar plus energy storage systems built with Phazr qualify for the full 30% Federal Investment Tax Credit because the batteries charge exclusively from solar.
About JLM Energy
JLM Energy is an energy technology company. JLM has created a fully-integrated software platform and energy technology bundle that optimizes energy use and maximizes savings for customers. The bundle includes solar, energy storage, monitoring devices, algorithms and load controllers that are all unified a single software platform.
JLM Energy is employee-owned and based in Northern California with offices in Arizona, Nevada and Hawaii. www.jlmei.com @JLMEnergy on Twitter.

(PRNewsFoto/JLM Energy)