Arlanda Express: Supurb service
During the 1990s it became natural and essential at a time when Stockholm Arlanda airport was endowed of a third runway, to have a safe, effective and fast way to connect the airport to Stockholm City: Arlanda Express is the solution in Best in Class
City - airport link
Further to my 5 tips to better prepare your holiday theme that particularly interested you by the number of visits to this article, I invite you today to continue our trip.
When we travel by plane, one of my primary concern, is to know, once arrived at the airport, how to get to the city center.
Indeed, you are aware, as I am, that for safety and environment reasons, airports are located outside the cities. The counter example is of course London City Airport but it is designed for short takeoff and landing aircrafts.
By the way, in France, the project airport Notre Dame des Landes (NDDL), which is controversial, will be located outside Nantes city to avoid overflying this city. I would dedicate a future article on this subject to bring you my perspective.
But back to our arrival at the airport. For my part, joining the city must be done as fast and short as possible in order to enjoy fully the stay. The means of transport to reach the city can be a bus, a taxi, a rental car or a train.
If we speak of how joining Paris by public transport from Orly or Roissy, we must admit, it is often a hassle and a first negative impression given to the tourists who visit our capital.
Arlanda Express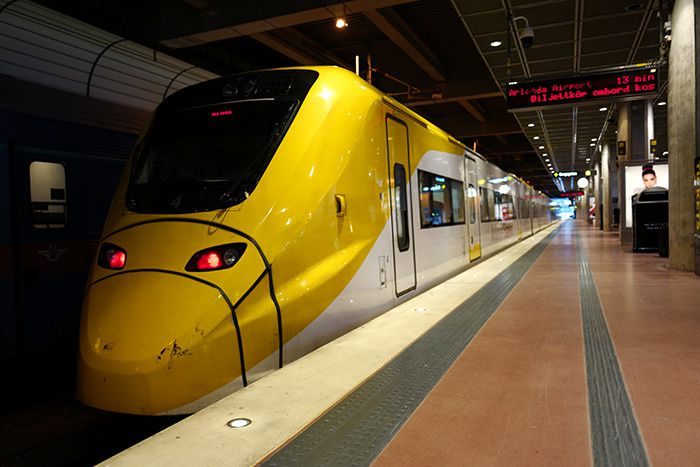 The best example I know, and I again used recently during my trip in Sweden, is the Arlanda Express.
The train was traveling at over 200 km/h and it only takes you 20 minutes for the link airport-city. For comparison, by bus it takes over an hour depending on traffic.
The number of train per day is totally adapted as this timetable indicates.
On entering a wagon the Arlanda Express (see the photo at end of the article) you have the feeling that the train has just come out of the factory.
It's clean and very well though. You have a specific place to store your luggage during the journey.
Design is Swedish, the chairs are comfortable and the window frame is made of wood, which gives a warm and friendly atmosphere.
Speaking in the same subtitle friendliness and rates, is to put forward a different mentality from ours, and that, unfortunately, it is not possible to implement in France.
Indeed, the traveler is considered to be a responsible adult. Many ATMs are available to take your tickets, you can even anticipate by buying your tickets online.
Do not look to validate your ticket: There is none! I have told you are considered as an adult. Moreover, it is stated that you can take your ticket on board, but it will cost you extra 100 SEK standard (Swedish krona), localekrona label (singular) kronor (plural). For comparison, the trip for 2 people costs 300 SEK. You understand, here it is not a question of fines but additional fees.
During the trip, a controller with a nice suit or a controller with a nice costume asks for your ticket with kindness and smile. This is a real difference in mentality and service.
To know the conversion SEK Euro-visit this site.
And another plus, as if you needed it, during the journey, you have a free WIFI access from your Smartphone or laptop.
This is ideal for announcing to your loved ones that you've arrived, or to share on your social networks like Instagram your first impressions.
Direction: the hotel.
20 minutes after, so we are in Stockholm Central Station, without fatigue or stress. And if your hotel is close to the exit, this is the top. But we'll talk about it soon.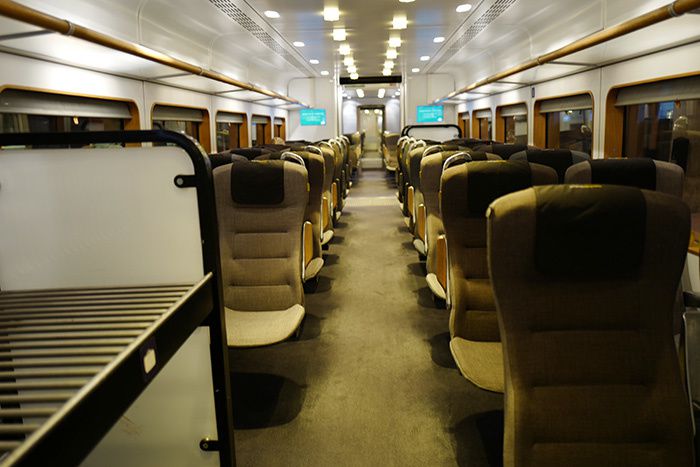 Your experiences
How do you make the links to the city-airport?

What about public transport?

Could we remove the machines to validate tickets?

Translated by Carrie