MyRoomIn
The room that I did not want
How many times have I cursed after booking a room to discover that it was right in front of the elevator or on a super busy street?
Two examples you may have, as me, experienced and even if it is only one night in a private or professional context that is very unpleasant.
In general, I went back down to reception to request another room, but it was not always possible and when we got up at 4 am, arriving at 18 pm at the hotel the courage is sometimes absent.
To my knowledge there was no booking system, website or specialized platform to book his/her own room. However I just found a platform that finally allows you to realize this dream.
The difference MyRoomIn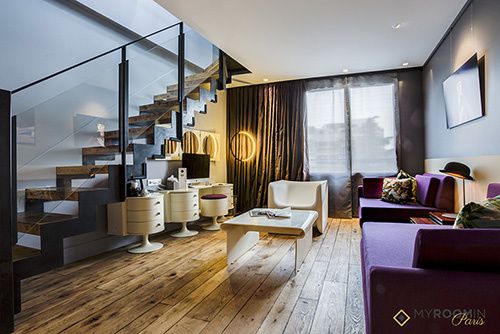 Since summer 2015 MyRoomIn launched its reservation site hotel rooms chosen in Paris. I tried to do a search on MyRoomin and I have to say the rooms, that I discovered, blew me away, these are real nuggets. By the way the navigation site is nice and fluid which is also an asset.
MyRoomIn: the choice at the heart of the customer experience
The more that is clear to me is to book precisely MY room by my standards, so it becomes the ideal room for the stay. I was impressed by the list of nearly 150 criteria to identify my room:
- Classical criteria (WiFi, bathrobes, breakfast coffee maker etc.)
- Advanced Criteria (Jacuzzi, breakfast gluten free, view from the room, choosing the floor, parquet floor, bed size ...).
MyRoomin goes even further by providing the list of services (spa, pool, international press etc.) and even addresses suggestions for each atmosphere of several Parisian districts:
" Paris People "

" Paris Fashion "

" Paris Elegant "
Customization at each price

I have not yet tested the service, but I've realized that the budget would be far from tremendous and even I would say almost cheaper than some traditional platforms (where we are given any room).
This customization is a real asset to the hotel, because given the rate width, it becomes easy to transform his private or business stay into a real holiday happiness.
I cannot wait to go to the capital to reserve MY room with this platform.
In conclusion I love this kind of service because the site really inspires confidence, I also states that this product is not sponsored, but it's there for you to enjoy true tips that I discovered.

Translated by Carrie