PBN@DSNA a major undertaking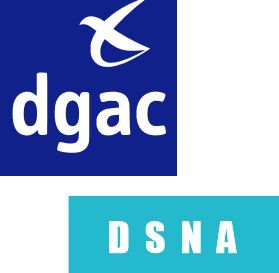 Everywhere, every time !
 DSNA is developing a broad network of Performance Based Navigation (PBN) approach procedures, in line with ICAO 37th Assembly resolutions, to enhance, complement and optimize the existing network of conventional procedures.
Now, DSNA is offering nearly 90% (180) runway ends with GNSS procedures.
This program addresses a wide range of airspace users potentially equipped with different navigation technologies (GPS, BaroVNAV, EGNOS, RNP AR).
PBN capable operators can now fly state of the art approaches when there is no Instrument Landing System (ILS) or while in maintenance or replacement, thus allowing reducing the ILS network. Besides,
PBN is largely implemented in terminal areas and for en-route operations.
Part of the PBN@DSNA initiative has been co financed through TEN-T / INEA and SESAR JU projects.

PBN@DSNA projects highlights
RNP AR at Nice-Côte d'Azur airport
the RNP with Authorisation Required procedure for runway 22 assesses a satellite guided curved ILS look alike leg, after the Final Approach Fix to the threshold 22. It will not only provide optimum routing using satellite navigation, but also miles savings, improved operating minima and eventually better accessibility to the airfield.
LPV 200 at Paris-CDG airport
Europe's first in a triple parallel1 independent approaches concept of operations with a PBN approach (APV with LNAV/VNAV minima and SBAS CAT I).
The first SBAS CAT I in France will be published at Paris-CDG airport, starting by the Southern runways, in March 2016. This project will participate in maintaining accessibility to the airfield for equipped aircraft, when maintenance or replacement of ILS is programmed.
RNAV1 mandate has been issued for the Paris TMA. All aircraft shall be RNAV1 capable by 10/11/2016 for Paris-CDG and Paris-Orly airports, by 8/11/2018 for Paris-Le Bourget airport.
PBN implementation on small/medium airports allows DSNA to cut down infrastructure costs by reducing the number of ILS. This program supports the French landing tax reduction announced in 2014. Since January 2016, DSNA has started to stop maintaining 50 ILS CAT I.

Source: DSNA press Release
Ref:  1 Two parallel runways at Paris-CDG and one runway at Paris-Le Bourget